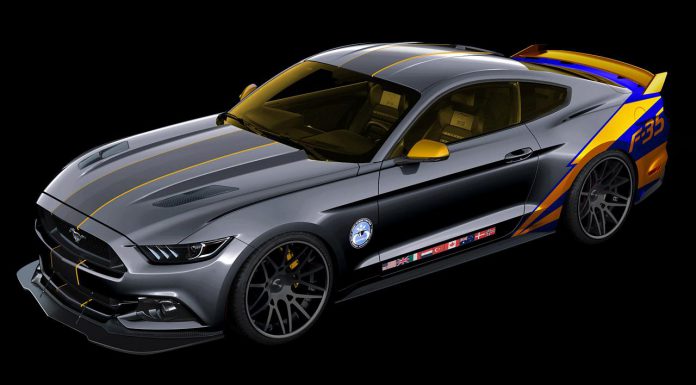 An image of the upcoming 2015 Ford Mustang inspired by the Lockheed Martin F-35 Lightning II has emerged prior to the one-off car's launch at this year's Experimental Aircraft Association (EAA) AirVenture in Wisconsin.
Ford is of course no stranger in creating special Mustangs for the incredible gathering and has done so for many years. This year, the latest-generation 2015 Ford Mustang is the basis for the project and it features a huge selection of eye-opening visual elements to set it apart from the regular Mustang of which production will start soon.
Up front, the 2015 Ford Mustang Lockheed Martin F-35 Lightning II features a massive front splitter to help create an added sense of aggression while adding impressive amounts of downforce. The car also receives a dark grey and yellow racing stripe stretching across the whole of the car and offsetting the silver paint job perfectly.
Elsewhere, the car features new matte black wheels with yellow brake calipers, extended side skirts, a large rear wing and an F-35 inspired livery at the tail end. The final visual changes are the yellow wing mirror caps and lightly yellow tinted windows.
At the EAA AirVenture event, the car will be auctioned off with the money raised going to the EAA Young Eagles program.