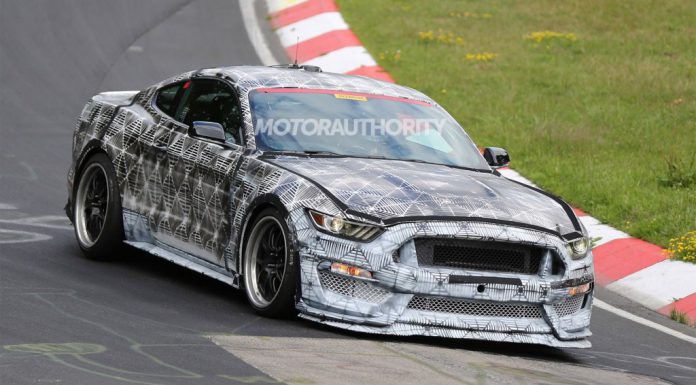 Even before the 2015 Ford Mustang was revealed online late last year, spyshots had emerged of high-performance variants testing across the United States. Now the first images of a souped-up example testing at Germany's Nurburgring have emerged and they are quite revealing!
Because it remains unclear just what high-performance variants of the new Mustang will be revealed, it is hard to say just what model we are looking at. However, this model is most likely to be dubbed the 2015 Ford Mustang GT350 SVT.
In years past, versions like this received the Shelby nameplate. However, because Ford's own SVT team will develop the car, the Shelby name will be replaced by SVT.
Visually, this special 2015 Ford Mustang features a revised and more aggressive front bumper and splitter, new wheels as well as what could be Recaro sports seats. Also, there are large quad-exhaust pipes, a new rear diffuser and carbon ceramic brakes.
[youtube]https://www.youtube.com/watch?v=xT-NTGo4dU4[/youtube]
From a sound standpoint, the rumble of the upgraded V8 engine is clearly discernible from the current range-topping Mustang GT and after watching the video, you'll likely agree that this Mustang GT350 SVT should be absolutely brutal when it eventually goes on sale.
It remains unclear just when a model will be revealed, but a debut later this year or early next year seems likely.
[Via Motor Authority]