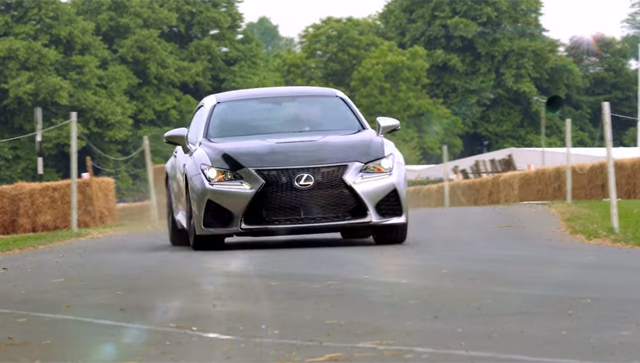 Following the recent British debut of the Lexus RC F Coupe sports car at the Goodwood Festival of Speed 2014, the firm has a released a couple of new videos depicting its runs up the famous British hillclimb.
[youtube]https://www.youtube.com/watch?v=RuxhfBc_h5Y[/youtube]
The particular Lexus RC F to go up the hillclimb was painted in a stunning shade of silver with a sporty carbon fibre bonnet.
The F performance model, based on the RC coupe, gets its roar from more than 450 horsepower and more than 383 pound-feet of torque all courtesy of an all-new 5.0-liter 32-valve V8 engine that will provide increased maximum power at higher engine rpm than previously possible. This engine is the most powerful V8 engine the Japanese marque has ever constructed. Lexus say that the car should weigh in at under 1,800 kilograms. The RC F will be limited to a top speed of 270 km/h.
[youtube]https://www.youtube.com/watch?v=XZOVv9kzlCE[/youtube]
The car that the RC F will surely be compared to is the BMW M4. For some comparison, the M4 produces less power, 431 horsepower but is considerably lighter, just 1,500 kilograms. It will be interesting to see which will come out on top on track!
At the front the signature Lexus spindle grille, featuring a subtle F-pattern on the lower half, dominates the front of the RC F from the bottom of the hood to the lower lip. Moving to the rear the RC F features an available speed-sensitive active rear spoiler that is inspired by the LF-A hypercar.