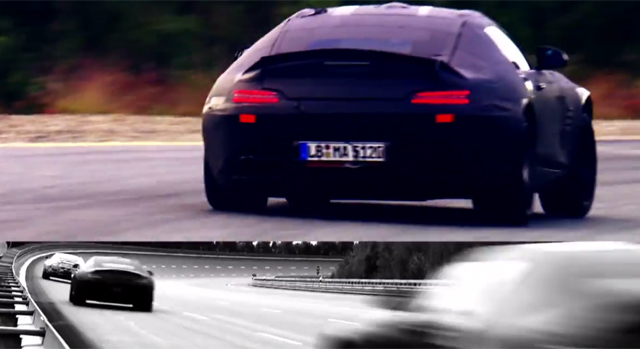 Ahead of a possible debut at the upcoming Paris Motor Show 2014, a new teaser video of the upcoming 2015 Mercedes-AMG GT sports car has been revealed. Unlike the previous teaser video which focused on the car's engine, this video looks at the driving dynamics of the Mercedes-AMG GT which according to the firm, should be a truly astonishing and ground-breaking car.
[youtube]https://www.youtube.com/watch?v=V3oLnANCFYE[/youtube]
There will be two variants of the Mercedes-AMG GT. First off is the entry-level 2015 Mercedes-AMG GT. It features a 4.0-litre biturbo V8 engine delivering 455 hp. The range-topping model is then the Mercedes-AMG GT-S with it featuring the previously confirmed 503 hp engine. Due to the presence of two different models at launch, the new Mercedes-AMG GT will be able to properly compete with the Porsche 911 range as well as the Jaguar F-Type line-up.
Sticky Michelin Pilot Super Sport tyres will come standard on both models with the entry-level model features a conventional limited-slip differential and 19-inch wheels at all four corners and rubber measuring 255/35 at the front and 295/30 at the rear. By comparison, the 2015 Mercedes-AMG GT-S features a more advanced E-diff as well as wider 265/35 tyres at the front and 20-inch wheels with 295/30 Pilot Super Sports at the rear.