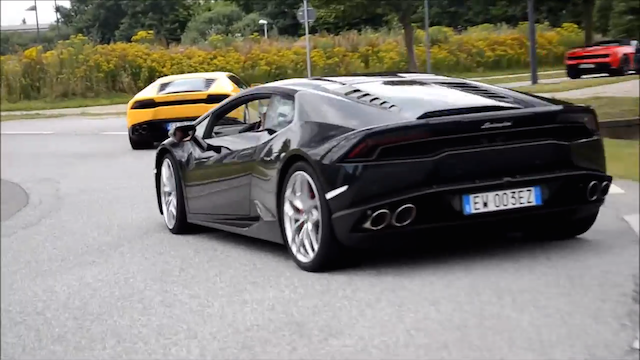 The Lamborghini Huracan has replaced the mighty Gallardo and customer deliveries have begun! Here we have a video taken in Germany featuring one of the first cars to be delivered being driven hard and using the very potent launch control system!
[youtube]http://www.youtube.com/watch?v=8QId_H2cWFY&feature=share&list=UUAUyB0t00Cw2WnnMWnae0-Q[/youtube]
As a reminder, the Lamborghini Huracán receives a new 5.2-liter V10 engine uprated and heavily updated from the engine of Gallardo's. It produces a total of 610 PS, or 602 hp at 8,250 rpm and 560 Nm of torque at a high 6,500 rpm. Consequently, the brand new Huracán can sprint from a standstill to 100 km/h in just 3.2 seconds, from 0-200 km/h in just 9.9 seconds and a top speed in excess of 325 km/h!