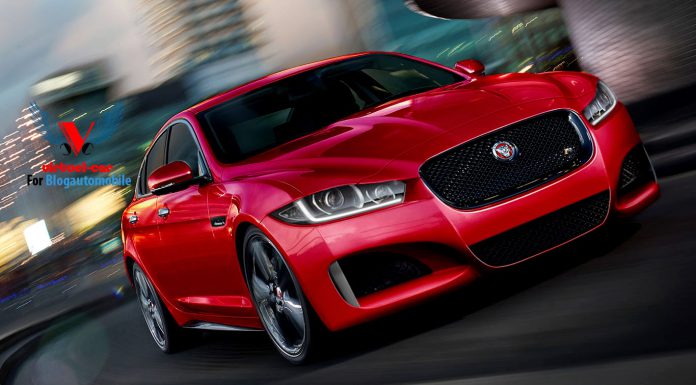 In the near future, Jaguar will unveil its entry-level sedan dubbed the XE. Designed as the cheapest Jaguar and to rival the likes of the BMW 3-Series, Audi A4 and Mercedes-Benz C-Class, the Jaguar XE certainly hasn't a lot to live up to.
Since being first teased a few months ago, more and more details about the XE have emerged with the British marque not scared to preview the cars design on more than one occasion. However, these teasers haven't revealed all the small details of the car, so it's worth checking out an awesome rendering showcasing how the car could look in R specification.
Coming courtesy of Virtuel-Car, the XE rendered features many of the design traits at the front we've been expecting. While looking quite similar to the larger XF to the untrained eye, new headlights are featured as is a new blacked-out front grille, bumper, air intakes and splitter. On the side, this rendering displays sporty wheels as well as prominent side skirts.
On an engine front, we know that the Jaguar XE will come with a 2.0-litre turbocharged petrol and 2.0-litre turbo diesel engine. Elsewhere, reports suggest that the range topping model, possibly called the Jaguar XER-S will feature a supercharged V8 engine delivering a truly brutal 542 hp making it not just an M3 rival, but also an M5 competitor from a performance perspective.
[Via Virtuel Car]