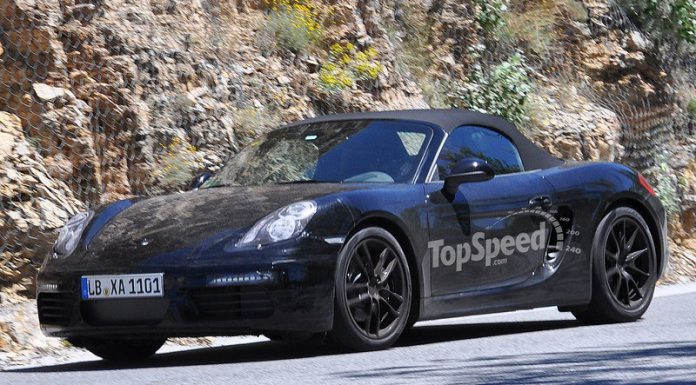 The first spyshots reportedly showcasing the facelifted, 2016 Porsche Boxster have emerged online. While it is hard to verify if it is indeed the new Boxster, the fact that it features stickers over the presumably restyled headlights and LED daytime running lights suggest that it is the facelifted Boxster which will be revealed before now and 2016.
Beyond these changes, everything looks the same as the standard car. However, don't let that fool you. We expect the completed 2016 Porsche Boxster to also come with new bumpers which this prototype is doing without.
Beyond this facelifted model, one of the key upgrades for the next-gen Boxster and Cayman duo will be the adoption of a range of four-cylinder engines likely following the lead of the 919 Hybrid endurance racer's V4 engine joined by two electric motors.
One key reason why the new Boxster and Cayman will adopt four-cylinder engines is to reduce the firm's CO2 emissions. While Porsche fanatics may be disappointed that four-cylinder engines will be used in the next Cayman and Boxster Porsche boss Matthias Muller recently said that this smaller engine will be able to deliver up to 395 hp thanks largely to the forced induction! Of course, this new turbocharged flat-four will sound significantly different than the current 3.4-liter flat-six naturally aspirated engine, but the extra power and extra speed of the next-gen Boxster and Cayman will definitely offset any possible sound deficits.
[Via Top Speed]