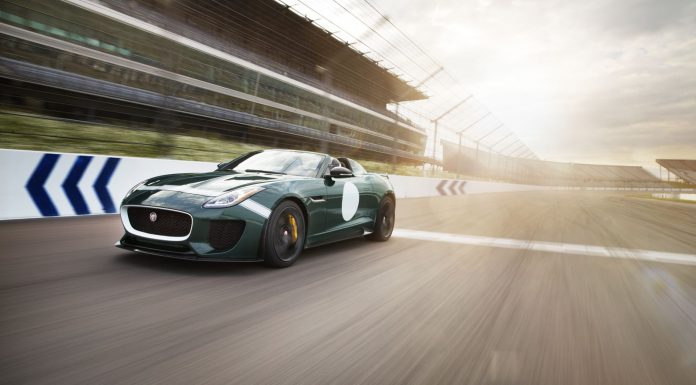 All U.K bound examples of the stunning Jaguar F-Type Project 7 have been sold out with an additional hundred potential buyers on the waiting list.
Just 250 examples of the F-Type Project 7 will be created but importantly, only 65 examples of those will be going to the United Kingdom.
Elsewhere, Jaguar will launch the F-Type Project 7 at the Pebble Beach Concourse d'Elegance in August. Prior to deliveries in the U.S beginning, the first examples will be delivered in the U.K and across the European Union with Jaguar engineers keen on making the Project 7 legal in Japan.
While the car presented at the Goodwood Festival of Speed 2014 looked production ready, Jaguar Land Rover's Speciale Vehicle Operations division executive Harry Metcalfe revealed that the roof design is still a work in progress.
"We have several designs currently under evaluation, but it will be a tensioned fabric roof and it will keep the occupants dry in heavy rain," he said.
Additionally, Metcalfe revealed that the Project 7 managed to better the time 7mn 39sec time of the F-Type R Coupe around the Nurburgring.
The Jaguar F-Type Project 7 represents the most performance-focused derivative of the acclaimed F-Type range and will be the most performance focused Jaguar on sale. With 567 hp and 680 Nm being produced from its 5.0 litre supercharged V8, the fully road-legal racer will hit 100km/h in 3.9 seconds and will keep pulling to a top speed of 300 km/h, only stopped by an electronic limiter.
The Jaguar F-Type Project 7 features an all-aluminium body and as a result the car weighs 80 kilograms less than the standard V8 convertible at 1585 kilograms. Power in fed to the rear wheels, which we are sure can burn rubber to the driver's hearts content, via an eight-speed Quickshift transmission and a second generation Electronic Active Differential (EAD) that first debuted on the R Coupe.