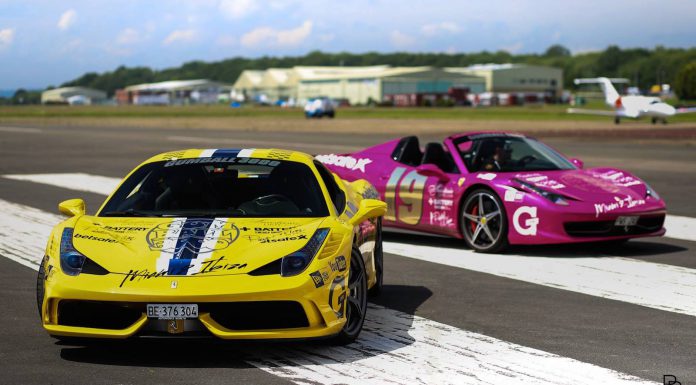 The Ferrari 458 Coupe, Spider and Speciale have proven to be very popular. As a result, this years Gumball 3000 grid was littered with a number of Ferrari V8s.
Todays Photo Of The Day features a Giallo Speciale car complemented with a NART (North American Racing Team) stripes and a pink Spider! The cars have been livered with contrasting Gumball 3000 decals. The cars were photographed at the famous Top Gear test track.
As a reminder the Ferrari 458 Speciale features a modified variant of the regular 458 Italia's 4.5-liter V8 engine. In Speciale guise, it delivers a total of 597 hp and 398 lb-ft of torque thus making it the most powerful naturally aspirated V8 engine ever produced by Ferrari. What's more, Ferrari claims that thanks to it delivering 133 hp per liter, it has the highest ever per liter output of a road-going naturally aspirated engine. Maximum power is achieved at 9000 rpm while max torque is reached at 6000 rpm.
This great image was captured by Pure Power Photography.