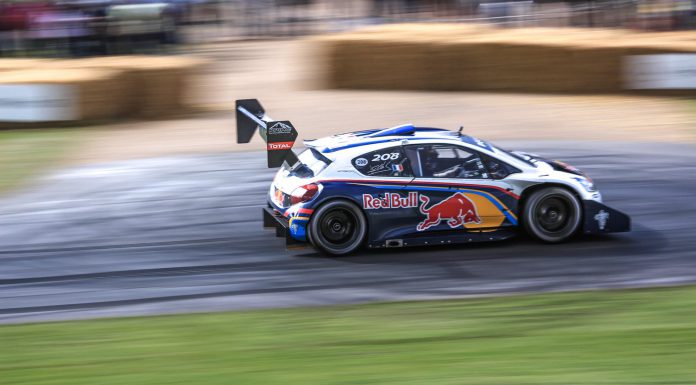 For most, the supercar hill climb at Goodwood Festival of Speed 2014 was a mere sideshow for the real event. The Goodwood Festival of Speed has always been renowned for the historic race cars it attracts. This year we saw more historic racers than ever before. From Nascar to 24 Hours of Le Mans, from Nurburgring 24 Hours to Indy Racers. Every taste was catered for!
To start at the very beginning, the Mercedes-Benz pre-war cars were pretty impressive. The 1908 140 bhp was present, a white painted 12.8 litre 140 bhp monster! Another 1914 Mercedes-Benz Grand Prix car was also in action. It had been uprated in 1922 for the legendary Targa Florio. A number of other Mercedes-Benz Grand Prix cars were in action including a second 1914 car, Chritian Lautenschlager's winner from the 1914 French GP.
Other pre-war cars included a gigantic Audi Type C Alpine from 1914, finished in bright yellow. Winner of the Austrian Alpine Rally three years in a row from 1912 to 1914, it looked fantastic being hustled up the hill. Several other cars caught our attention including the 28.4 litre Fiat S74 which set a top speed record of 180 mph back in 1912, an early Shelsey Walsh hill climb car, the 1923 GN Spider and a 350 hp Sunbeam V12 dating back to 1920.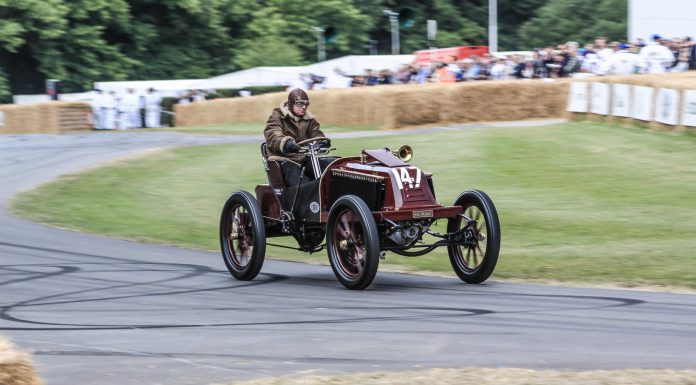 The next class of cars included some real brutes. The chrome Napier-Railton Special caught our eyes with a 23.9 litre W12 engine and similarly huge body. It still holds the lap record at Brooklands. The same era also saw the classic Silver Arrows and Auto Union battle. Examples of the 750 kg W125 ad the V8 W165 were in action alongside an Auto Union Type C!
Endurance racing really started to take off after the 1930's. Some early examples on display included the "Old Number 1" "Old Number 2" and "Old Number 3" with wins at 24 Hours of Le Mans and Brooklands to their name. British endurance racers were also exhibited by Jaguar with and ex-Sterling Moss Jaguar C-Type and a prototype Jaguar D-Type form the Jaguar Daimler Heritage Trust.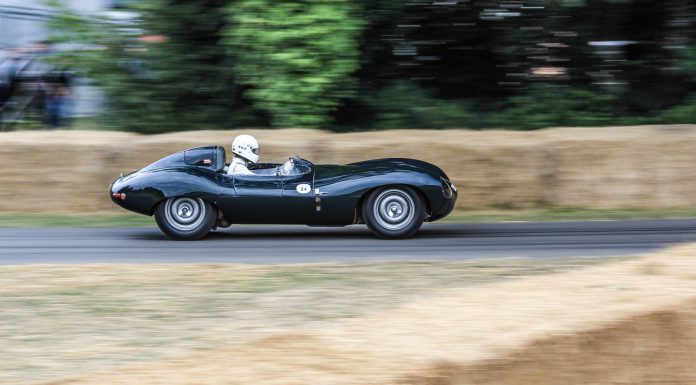 Three more Jaguar D-Type's were also on display including the Ecurie Ecosse car which won 24 Hours of Le Mans in 1956 and 1957. Mercedes-Benz Classic bought one of two Mercedes-Benz 300 SLS, the car that won the 1957 SCCA Championship. Renault brought an Alpine M65 from its collection and a number of privateers held up the Ferrari side of the display with cars such as the 166 MM Barchetta and the 250 GT LWB.
2014 is Maserati's centenary year which means that we saw a special category with a variety of special Maserati's from years gone by. The 1955 Maserati A6GCS caught our attention, it didn't quite match other cars of its time but did once manage 6th at the Mille Miglia. Its the shape that makes it special though. Others included an 8CM which won the Belgian Grand Prix, Juan Manuel Fangio's Maserati 250F and a stunning Maserati Tipo 61 Birdcage from 1959.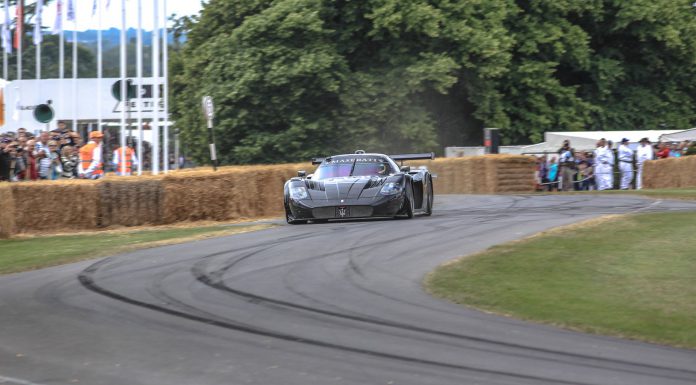 More modern Maserati machinery included three MC12's. One of the cars received a special repaint in unique Goodwood design. Vita4one Racing dominated the FIA GT between 2005 and 2009 with these cars and the Goodwood car, driven by Michael Bartels set a staggering pace on the hill, beaten only by Sebastien Loeb in his custom Peugeot.
Touring cars were represented by cars such as the 1963 Ford Galaxie 500, the Rover SD1 Vitesse, the Aston Martin V8 Vantage Evo 4 and the BMW 3.0 CSL 'Batmobile'. Unfortunately the Aston Martin hit the flint wall on the Saturday. With 560 hp, Anthony Reid was pushing hard to set a fast time when he clipped the front left fender. More modern racing saloons included the 2006 Mercedes-Benz AMG C-Class DTM driven by Dario Franchitti.
Examples of rally cars included Sebastien Loeb's 875 bhp Peugeot 208 T16 Pikes Peak car which set the record last year's Pikes Peak Hillclimb. It wasn't quite enough for Goodwood though as it fell several seconds behind the Goodwood Hill Climb record. The Peugeot 405 T16 Pikes Peak car was also in action. Perhaps the greatest car though was the Mazda FD RX7 of 'Mad Mike' which drifted up the entire length of the hill climb.
WRC was well represented with Sebastien Loeb's Citreon DS3 WRC car and a Toyota Corolla WRC car. Its the Group B cars that really attract the attention though, cars from a legendary era of zero regulation. Cars like the Lancia Delta S4 and the Audi Sport Quattro S1 E2. Another car that impressed was the Mercedes-Benz 500SL Rallye which suffered a crash on the Friday and was rebuilt overnight. It took part for both Saturday and Sunday!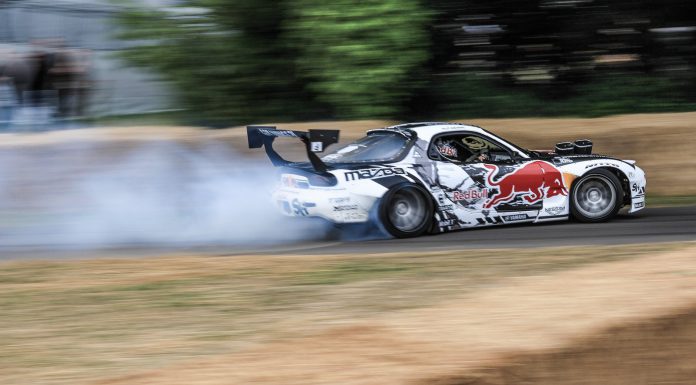 Nascar legends ranged from a 1063 Chvrolet Impalla raced by 'Junior' Johnson. Two 2013 Toyota Camry's also took to the hill together with an awesome Toyota Tundra from the Craftsman Truck Series. The Friday also saw a drag car take to the hill which meant we could no longer hear for the rest of the weekend.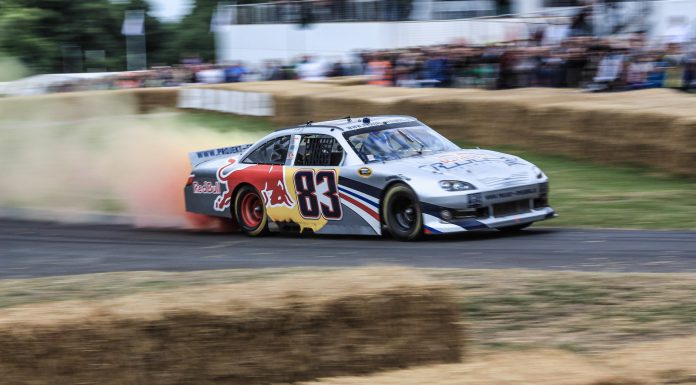 Moving back into the Grand Prix era and we saw both classic and contempory race cars on display. Some of the early designs were stunning, take the Mercedes-Benz W196 which won two F1 titles for example. Sir Sterling Moss was also on hand to drive another more contemporary W196. Other examples included an Alfa-Romeo Tipo 159, a Lotus CLimax 25 and a replica of the Ferrari 156 Sharknose built for the film Rush.
Cosworth had its own category with several different Lotus, Tyrell, Chvron and March examples. The Turbo era was well represented by McLaren cars, several Benetton-Ford's and William's cars. Bruno Senna drove Aryton Senna's championship winning McLaren Honda MP4/4.
American cars included a Chevrolet Camaro IROC, a McLaren Chevrolet M8F Can-Am car and a Porsche 962-slaying Nissan GTP ZX-Turbo. The Riley-Porsche Prototype caught our eye, it won Daytona 24 Hours in 2010. John Surtees was celebrated with a special category too with a number of his past cars and bikes on display. Modern Formula 1 cars were demonstrated on the hill by Ferrari, McLaren and Mercedes. Caterham, Lotus, Red Bull, Torro Rosso and Williams all bought cars for static display.
The final categories were some of the most interesting, Modern GT Cars, Le Mans Prototypes and Sports Prototypes. These included legends such as the Porsche 917, the Ferrari 512S and the Sauber Mercedes C9. Several examples of the Porsche 956 and the Porsche 962 were on display alongside the new Porsche 919 Spyder, fresh from its maiden outing at the 24 Hours of Le Mans. The Jaguar XJR9 LM is a regular at Goodwood.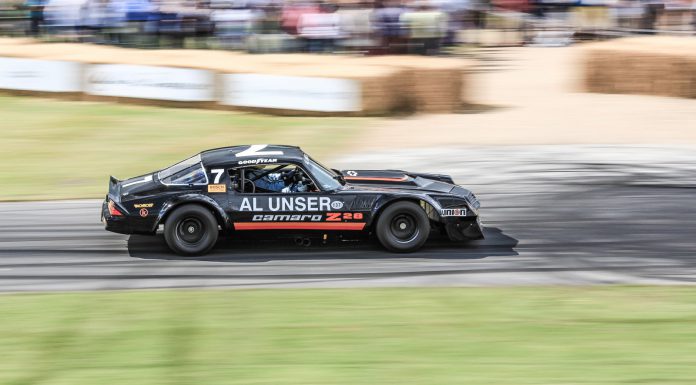 Aside from the Porsche 919 Spyder, we also saw the winning Audi R18 E-Tron Quattro in action and the Toyota TS030 Hybrid on static display in the paddock. GT Racers included a rare McLaren F1 Longtail and a Jaguar XJ220 GT and XJ220 LM. The CLK GTR and the Porsche 911 GT1 were also stunning to see in action. Finally, current champions including the Bentley Continental GT3 and the Mercedes-Benz SLS GT3 were big crowd pullers!