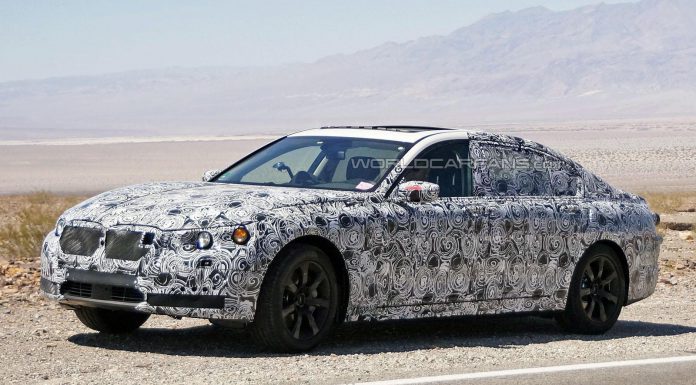 The upcoming next-generation 2015 BMW 7-Series long-wheelbase has been spied undergoing testing in the United States.
As the following images show, this prototype was heavily camouflaged just like all other next-gen 7-Series test mules spotted thus far. However, we can make out a few key details like the extended wheelbase and dual exhaust system.
Not too long ago, BMW confirmed that the next-generation BMW 7-Series will utilise carbon fibre in its construction. Of course, the launch of the next 7-Series in 2015 will follow on from the i3 and i8 both of which utilise carbon fibre extensively. It is believed that the car will utilise a chassis combining both aluminium and carbon chassis which could aid in a drastic 204 kg weight reduction over the outgoing BMW 7-Series model.
The upcoming BMW 7-Series Long-wheelbase and speculated to use the Li designation, will of course rival the impending Mercedes-Benz S-Class Maybach. In addition to competing with the long wheelbase S-Class, this extended 2015 BMW 7-Series could also compete with the base Rolls-Royce Ghost which currently costs about $100k more than the most expensive 7-Series.
Beneath the new lightweight body, a host of engines will be available for the new 7-Series. While manufacturers are indeed adopting smaller and smaller engines, expect engines ranging from 6-cylinders to V12s to still be available.
[Via World Car Fans]