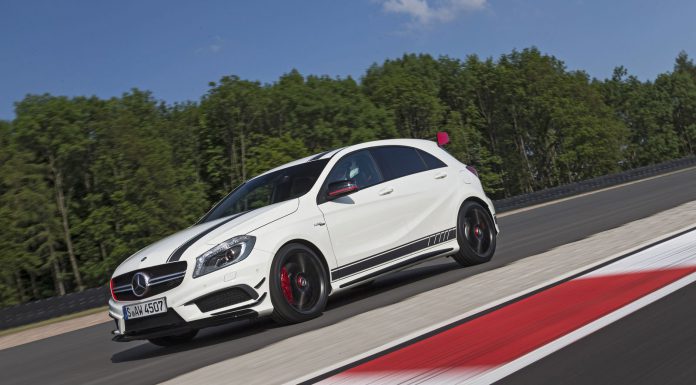 Mercedes-Benz AMG is said to be prepared for a power war for souped-up four-cylinder models coming from the Volkswagen Group.
Mercedes-Benz raised the turbocharged four-cylinder bar last year when it revealed the Mercedes-Benz A 45 AMG. With its four-cylinder delivering a brutal 355 hp, it was the most power dense engine on the market prior to the launch of the McLaren P1. However, the Volkswagen Group isn't forgetting about the potency of the A 45 AMG and is working on a unit which could be even more powerful.
Already, both the Volkswagen Golf R400 and Audi TT Quattro Sport have been revealed with the same four-cylinder engine delivering 395 hp and 414 hp respectively.
While speaking with Drive at the launch of the S-Class Coupe, AMG's product planning manager Oliver Wiech suggested the German marque is prepared to create an even more powerful four-cylinder engine to retain its crown.
"I would say, today we are alone in this segment," he said.
"We pushed a car into an arena of performance compact cars where there is no competitor right now. We know that competition will rise and they don't sleep. I guess we are prepared for this."
Interestingly, Wiech denied that a Black Series versions of the A 45 AMG or CLA 45 AMG are on the cards.
[Via Drive]