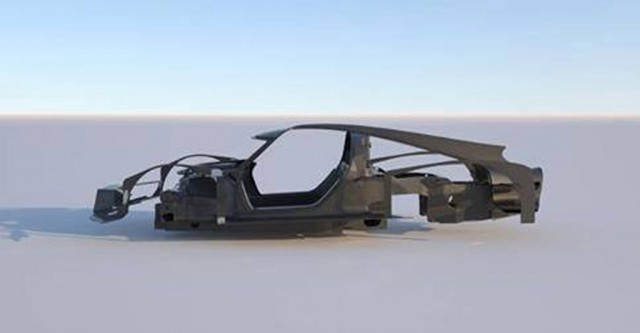 At the Geneva Motor Show 2015, the James Glickenhaus SCG003 supercar will be revealed. As just the latest car from the man behind the P4/5 by Pininfarina and the P4/5 Competizione, the SCG003 will be extremely advanced. To help show this, the car's advanced carbon fibre chassis has been revealed.
The SCG in the name stands for Scuderia James Glickenhaus, a dedicated racing team. The car should tip the scales at just 1600 pounds and will utilise a twin-turbocharged 3.5-litre V6 engine delivering around 500 hp.
From a design standpoint, the SCG003 will be created by Glickenhaus in collaboration with design house GranStudio who are aiming to create an iconic design which is extreme focused on aerodynamics. Alongside the carbon fibre chassis, the SCG003 will feature lightweight carbon fibre body panels.
It was suggested late last year that the final design and specifications would be complete in January before the long build process starts in the first quarter of this year. Obviously, it is well past that now meaning the car could already be taking shape.
Alongside the road-going SCG003, a dedicated racing spec car should be created with it competing at the Nurburgring 24 Hours in the SPX class. There's also a possibility the car will be able to compete in the 24 Hours of Le Mans if other units can be created for homologation.