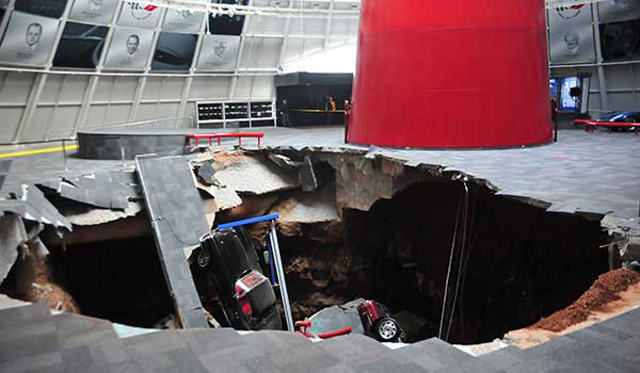 When a massive sinkhole opened up at the National Corvette Museum back in February, the event was understandably considered as crippling for the museum with it swallowing and severely damaging eight rare and expensive Corvettes. However, on the back of visitors rising by almost 60 per cent from March to mid-June compared to 12 months ago, it has been decided that a large section of the sinkhole will be preserved.
While speaking with The Detroit News, museum executive director Wendell Strode said, "This gives us one more asset … to be able to attract those folks that maybe just having Corvettes on display would not get them to come here. We think it will continue for some time to be of great interest."
Alongside visitors to the museum being up, the sinkhole has resulted in a sharp spike in museum memberships as well as merchandise and café sales.
The museum board has reportedly decided to keep about half of the sinkhole and there is a possibility that one or two of the cars originally swallowed by it, will be put back into the sinkhole!
The project will reportedly cost between $3 million to $5 million but insurance will pay for some of that. The entire sinkhole and damaged Corvettes will remain on display until August and in September, work on stabilising the sinkhole and preserving half of it will commence.
[Via The Detroit News]