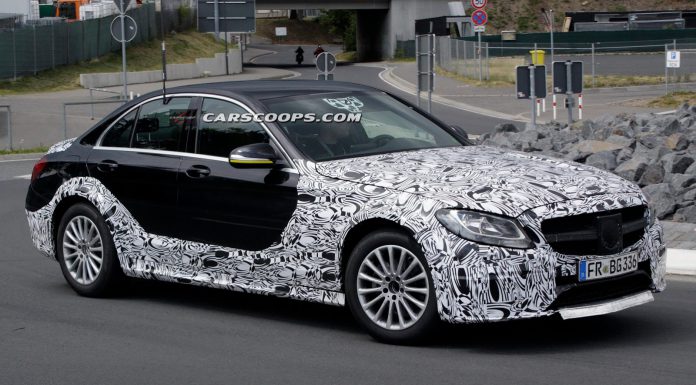 Spyshots have just emerged reportedly showcasing the next-generation 2016 Mercedes-Benz E-Class spied testing disguised as the new C-Class.
While on first appearances, this Mercedes-Benz prototype looks nothing more than a new C-Class variant, it is the extra length and width which suggest otherwise. The wheelbase is longer with the front end and bonnet also being stretched.
Under the hood, a few key changes are predicted. First and foremost, there is a suggestion that a host of new engines are being tested for the new C-Class including a few inline-six cylinder engines.
Mercedes-Benz has quite a rich history of using inline-six cylinder engines but they were eventually phased out by the brand in the mid-1990s. However, the return of the inline-six cylinder engines will mark an awesome return to Mercedes heritage of the past and is sure to be a hit among many Mercedes-Benz enthusiasts and aficionados out there.
The new inline-six cylinder engine from Mercedes-Benz, no matter of its displacement, will then spawn brand new four-cylinder and three-cylinder engines for the brand and the new E-Class will likely be the first Mercedes-Benz model to debut this inline-six.
Alongside the new engines, the next-generation Mercedes-Benz E-Class will be significantly lighter than the outgoing model and could conceivable loss around 100 kg.
[Via Carscoops]