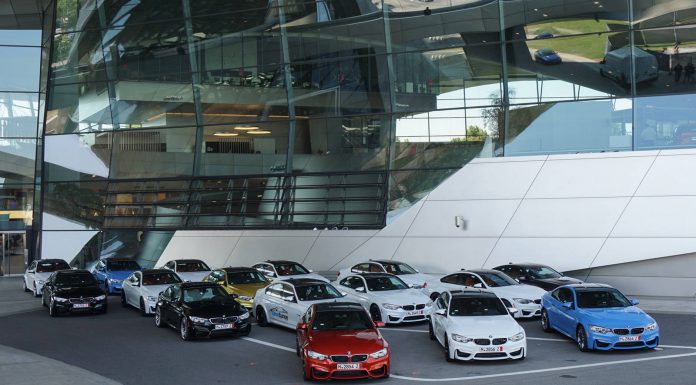 According to the BMW Museum, the first batch of M3 Sedans and M4 coupes have been delivered to BMW Welt in Germany. Twenty-two proud owners of the first 2014 BMW M3 and M4s from all over the USA picked up their cars at BMW Welt in Munich are going to participate in the first ever Bimmerpost"I///MDelivered" group tour. They are going to experience a five country driving experience in Europe for a couple of days and will visit some iconic automotive locations including trips to the race tracks at Spa-Francorchamps and the famous Nürburgring track.
On the first day, they will leave BMW Welt and venture south on the Romantic Road towards Spa-Francorchamps in Belgium. On the second day, participants will experience a full day safety, handling and performance driving course at the Spa-Francorchamps Circuit. Meanwhile, the highlight of the day will be featuring hot laps in a Porsche GT3 race car driven by the "Ring Queen" Sabin Schmitz. A photoshoot of the M3s and M4s lined up alongside the the gorgeous previous generation BMW M3s will be conducted before ending the day.
A private lunch that will be hosted by Sabine's Family Hotel on the following days and will be continue by a three hours Eiffel Road and Nürburgring road tour. After the three hours tour, participants will then get the chance to take their first laps around the Ring. They were also invited to Sabine's ranch in the Longhorn saloon where she will personally cook the group dinner.
[youtube]http://youtu.be/SiXx_KvkyGY[/youtube]
Furthermore, the owners of new M3s and M4s will take the journeys through some of the best driving roads including the Stelvio Pass, Romantic Road, German Alphine Road, Black Forest, the German version of the Tail of the Dragon and some others less popular but exciting roads. On the last day of the tour, the owners will drop off their new BMW Ms to be shipped back to their homes in the U.S.
[Via Bimmerpost]