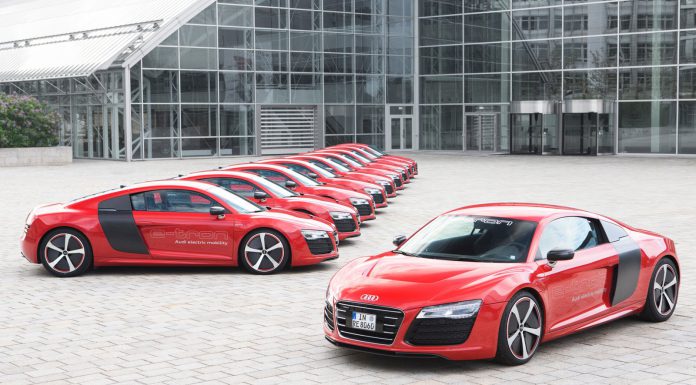 Audi has drawn up plans for an electric performance car offensive to tackle and rival the future plans of Tesla Motors if the electric market continues to rise in popularity and importance.
Analysts believe that by the end of the decade, sales of electric cars will rise sharply and as it stands, Tesla is ahead of the game. Additionally, Audi rival BMW has already launched an all-electric car in the form of the i3. As a result, Audi is said to be lagging behind the competition slightly but next year, the company's first all-electric car will be launched in the form of the long-awaited Audi R8 e-tron.
While production of the Audi R8 e-tron will be tailored to demand, the fact that Audi has managed to solve range problems and lift the range to 450 km in just a couple years plays testament to the progression of battery and electric motor technology. The Audi R8 e-tron isn't the only electric high-end car the German marque is preparing with it having drawn up blueprints for a range of high-performance electric sedans and SUVs.
While speaking with Reuters, NordLB analyst Fran Schwope said, "Germany's major carmakers all have their electric-car plans ready in the drawer. They want to be prepared when demand accelerates." Schwope suggested this demand could happen in 5-7 years.
One key electric model Audi is said to have started drawing up is an electric version of the upcoming Audi Q8 SUV to rival the Tesla Model X.
[Via Reuters]