We recently caught up with Jason Heffner of Florida's Heffner Performance and got a chance to sit down with him and talk about what's going on at the shop, and his recent visit to Calgary, Canada.
With the recent completion of a Heffner bolt-on 800 hp Lamborghini Gallardo at ZR Auto, and an upcoming race event involving a pair of Heffner 1500 hp Gallardos, Jason took a trip up to Calgary to get in on the action, and to personally tune the cars and see the live dyno results of his high-horsepower creations.
Q&A With Jason Heffner:
Q: What's been one of the wildest projects you've worked on?
A: Probably that one (gesturing to ZR Auto's white Lamborghini Murcielago, outfitted with a 1300 hp Twin Turbo system.) Nobody is crazy enough to do it. There's only two or three out there. It's not very practical or very economical, but it sure is cool, and very unique. We see a lot more Gallardos at the shop because they're a better handling car, and easier to outfit with a turbo system. But the Murcielago is certainly one of the wilder ones.
Q: What projects do you have on the go at your shop right now?
A: The usual. We have Vipers, Gallardos, Ford GTs, Audi R8s. There's nothing really shocking at the shop right now. We see a lot of the same. With that being said, the cars we modify are certainly mind-blowing supercars, we just see a lot of them!
Q: What car would you like to get your hands on to work on next?
A: The McLaren MP4-12C for sure. But the problem is that electronically, McLaren has made the car next to impossible to unlock. They won't sell us their tuning computers either. Basically we'd have to get a different software package for each individual car because they're all coded to the VIN. It's just a mess to have to work with, but if we could get the electronics unlocked, I'd love to do some heavy ECU tunes to the 12C!
Q: What's one of your favorite cars to work on?
A: The LP560-4 is probably the best. It has great horsepower gains and better parts than the pre '08 Gallardo's. It's an easy car to work with; turbo system, ECU tune and injectors is all you really need and you've got 800 hp to the wheels!
Q: Do you usually get customers asking for massive horsepower gains?
A: No, well that depends on what you mean. For instance, 800 hp at the wheels is a pretty massive horsepower gain. That's what most of our customers go for. I usually ask my customers what they want to get out of the car before I suggest a performance package. If they aren't looking to drag race the car, I would never suggest a package above 1,000 hp. But you get all sorts of guys that come in all wanting different things out of the car.
Q: What's your favorite part about modifying cars?
A: Racing them! We have three races that we're heading out to this month. We have a customer who lives in Montreal, but he leaves his two cars with us. We're doing some standing mile drag races with the cars. That's always my favorite part. Why build them if you aren't going to race them?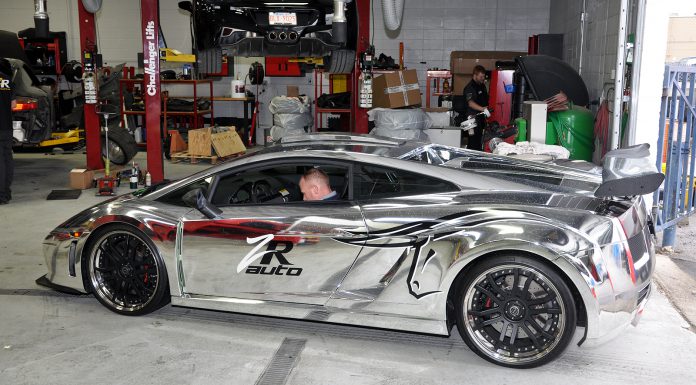 Jason Heffner, along with the ZR Auto team, will be dyno-testing three Lamborghini Gallardo's before heading to Edmonton to a charity track event called Racing For A Cure. The event benefits local children's charities, and allows people to bid on rides in various exotics around Edmonton's Castrol Raceway. The event takes place June 20-21st at Castrol Raceway in Edmonton, Alberta, Canada.