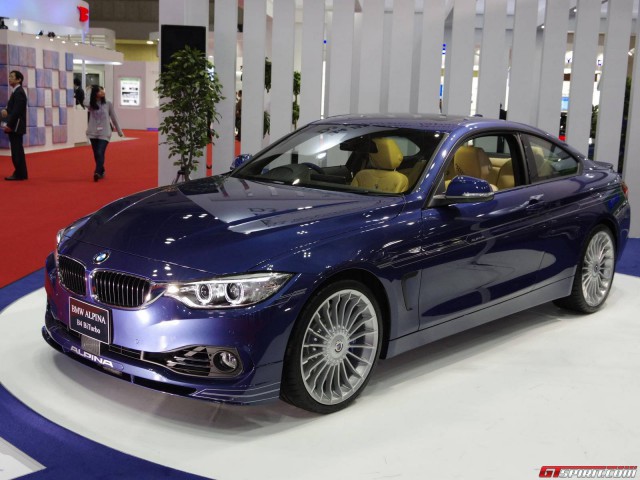 The Alpina B4 BiTurbo Coupe is set to make its U.K. debut at the upcoming Goodwood Festival of Speed 2014. While it doesn't seem that the car will run up the famous hill climb, seeing it in the flesh just like at Tokyo should be very exciting!
The BMW 4-Series is of course, common ground for Alpina. While the bodykit may have changed slightly in line with the different body style, the power enhancement does not. BMW's 3.0 litre six-cylinder bi-turbo petrol engine gets a boost to 404 hp and 600 Nm of torque. Power is delivered to the rear wheels through an eight-speed automatic gearbox.
In terms of the performance, the Alpina B4 BiTurbo Coupe manages 0-100 km/h in 4.2 seconds and a top speed of 305 km/h (189 mph)! Efficiency is increasingly important nowadays so some of you might be pleased to hear that the Alpina B4 BiTurbo Coupe manages 7.6 L/100km (30.9 mpg US / 37.1 mpg UK) with CO2 emissions of 177 g/km.
At each corner, the Alpina B4 BiTurbo Coupe receives sport-tuned suspension and a high-performance braking system with discs measuring 370mm at the front and 345mm at the rear. The bodykit is restrained and in typical Alpina style!
In the U.K, the new B4 BiTurbo Coupe starts at 58,950 pounds while the convertible will set buyers back at least 62,950 pounds.