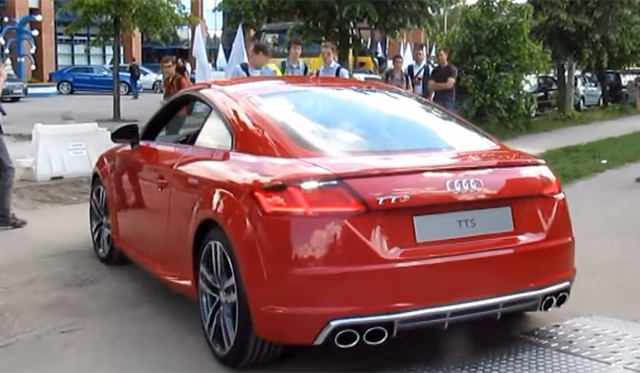 Following its launch back the Geneva Motor Show 2014, the first video of the new-generation 2015 Audi TTS on the move has emerged from a display of the new German sports car in Hungary. The video gives us our first listen to the uprated four-cylinder engine.
[youtube]https://www.youtube.com/watch?v=_jcoyX4n7MQ#t=80[/youtube]
This new engine manages to deliver an impressive 310 hp and puts the TTS well ahead of the regular TT which by comparison, produces a mere 184 hp. In the 2015 Audi TTS, this power is sent to all four wheels and complete with launch control it covers the standard sprint in 4.7 seconds and its top speed is electronically governed at 250 km/h. The 2.0 TFSI produces 380 Nm of torque between 1,800 and 5,700 rpm. Controllable flaps in the exhaust system modulate the sporty sound and make it even fruitier.
The TT has become such an icon thanks to its instantly recognisable body shape with its strong arches and smooth curved roof. The third generation of TT emphasises and extenuates the strong lines and angles of the sports coupe. The front of the new TT is characterised by horizontal lines. The singleframe grille is much broader and flatter than that of the previous model, with a powerful line dividing it into two zones. Starting in the top corners of the grille, sharp contours run in a V across the hood, which bears the four Audi rings mimicking the design on the Audi R8 supercar.