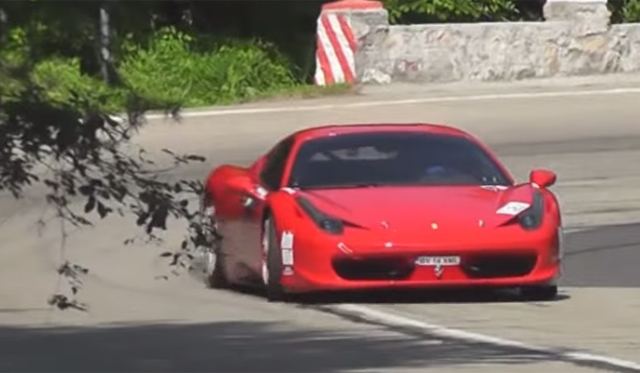 Seeing supercars on the street is always a thrill. However, seeing dedicated racing cars on the street is something else entirely! At a recent Romanian hillclimb event, a stunning Ferrari 458 Challenge took the field by storm and with its 4.5-litre V8 engine screaming away, definitely would have shocked quite a few of the locals!
[youtube]https://www.youtube.com/watch?v=NzIEf4nlrTY#t=23[/youtube]
When compared to the standard 458 Italia, you'll immediately notice that this car sits much lower thanks to its race tuned suspension. Additionally, the angry V8 engine sounds even more brutal as it wails towards the 9000 rpm redline which would leave even the Honda S2000 envious.
While the Ferrari FXX is often considered as the absolutely pinnacle of Ferrari engineering for the track available to wealthy customer's, around the Fiorano test track, the 458 Challenge is just 0.2 seconds slower! It utilises the same 562 hp as the road car but as mentioned, receives tuned suspension, beefed up brakes and weighs significantly less than the standard 458.