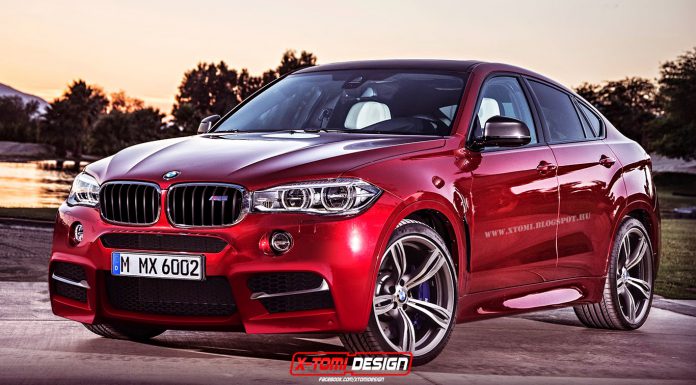 With the 2015 BMW X6 officially revealed as well as the M Sport video, the next variant we are looking forward to is the obligatory BMW X6 M. The car has been spied testing a multitude of times and with the styling of the standard car out in the open now, automotive renderer X-Tomi Design has imagined how the car will look.
At the front, the new BMW X6 M will receive a much more aggressive front fascia incorporating an aggressive front bumper and air intakes. It will also receive larger cross-drilled brake discs and more potent brake calipers as well as lowered suspension to stiffen the ride, lower the centre of gravity and improve handling.
While not pictured in this rendering, the new X6 M will also adopt a more in-your-face rear with BMW Ms quad exhaust pipes.
Both the new X6 M and X5 M will use the same 4.4-liter twin-turbo V8 engine of the outgoing cars. In current tune, that engine pumps out 547 hp at 6,000 rpm and 680 Nm of torque at 500 lb-ft of torque. However, we can expect to see some slight power gains for the latest models.
The next-generation 2015 BMW X6 M is expected to arrive in the coming months before debuting publically in the last quarter of the year.
[Via X-Tomi Design]