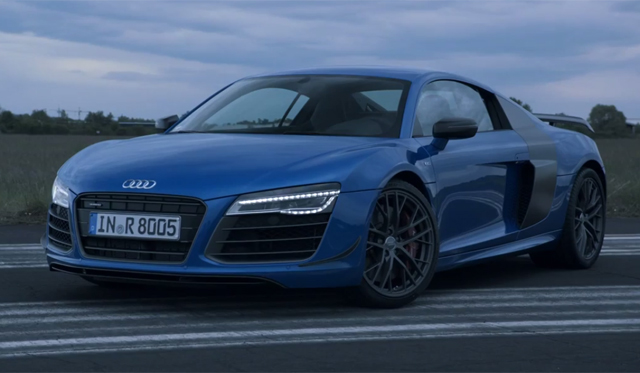 The 2015 Audi R8 LMX recently made its debut at the 2014 24 Hours of Le Mans and now the company has revealed the official promo for the impressive car with multiple Le Mans winner Tom Kristensen.
[youtube]https://www.youtube.com/watch?v=GyTIinfzJIc#t=76[/youtube]
The three minute video walks us through all of the key upgrades found on the R8 LMX and there's no doubt that Audi will receive a lot more than 99 orders for the car which is of course just how many units will be produced. Happily for those that miss out, the next-generation Audi R8 is due out soon.
The real headline of the Audi R8 LMX are its laser headlights. At its launch, Audi said it was the world's first production car fitted with laser lights but since deliveries of the BMW i8 have already commenced, it'll have to settle with second. Nevertheless, Audi has long led the way when it comes to conquering the darkness. The R8 was the first car to boast all-LED headlights way back in 2008, which was followed up in 2013 when the R8 adopted special Matrix LED headlights. Now with the LMX and its laser high beams, which increase the line of sight dramatically, the Ingolstadt-based automaker is taking another shot at brightening up the night.
Apart from the headlights, the LMX offers all of the good bits from the standard Audi R8. You get a 5.2-liter V10 engine producing 570 horsepower and 398 lb-ft of torque, a seven-speed S-tronic transmission, carbon ceramic brakes with red anodized calipers and Audi's Quattro permanent all-wheel drive system. The LMX also receives a special carbon-fibre spoiler, front lip, rear diffuser and side strakes along with high-gloss black tailpipes.