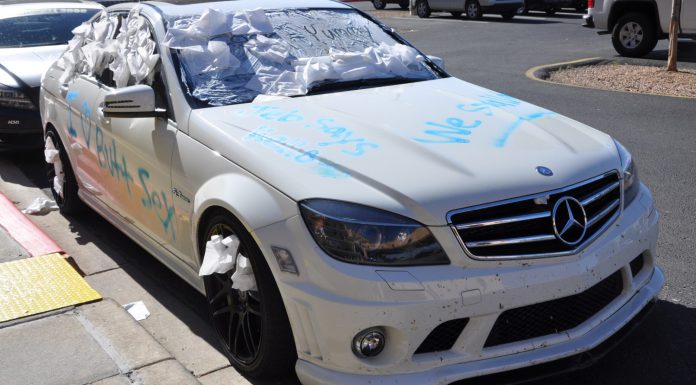 It's the final day of Bullrun 2014 and the fatigue is really starting to show. The Bullrunners partied into the early hours of the morning at the hotel in Santa Fe, but the 10am wheels up call threw everyone for a loop.
Teams awoke to find most of their cars pranked, including Drake and Phil, who have been pranking everyone throughout the rally. Their car was covered in shaving cream, with water-soluble spray-paint graffiti all over the body panels, and Bullrun decals covering the windows.
Today I rode with Dharmesh from Flagstaff, AZ, in his low-key brushed matte black Aston Martin DB9. At 10am, we were wondering where we would pick up our route cards. None of the crew members where anywhere to be seen, so we be began to worry. Suddenly, everyone's phones lit up with a text from Bullrun boss, Andy Duncan: "Go to the check-in desk and ask for Burt Reynolds."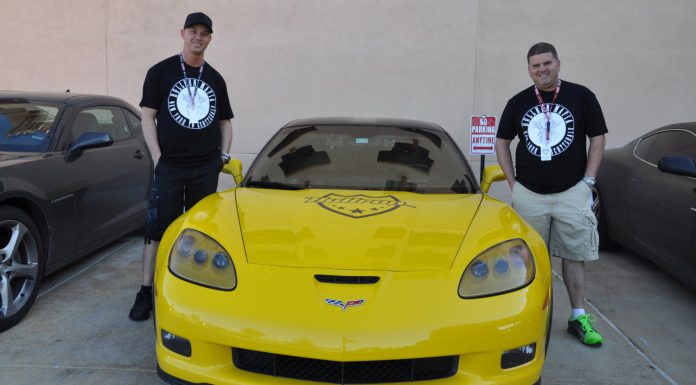 A few of us made a mad dash to the front desk, while others tried to understand what they were supposed to do. Upon asking for Burt Reynolds, we were handed a room key. We headed up to the fourth floor, unlocked the door and found a note on the safe that read "Bullrun Rocks!" After failing to open the safe, we called security to open it for us. Inside the safe were our route cards, destination: Eagar, AZ!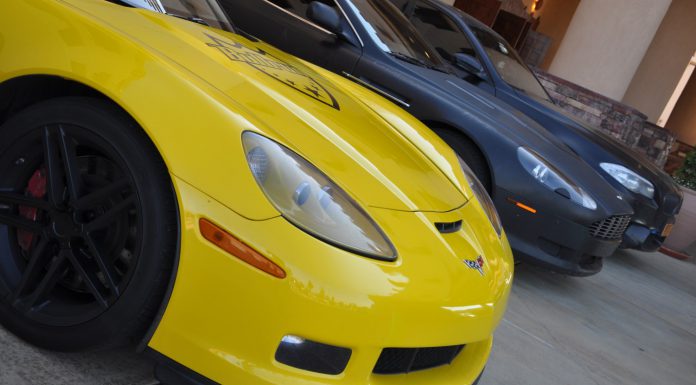 As we made our way out of the hotel grounds, a bunch of teams still hadn't understood what they were supposed to do, and hadn't picked up their route cards from the hotel room. Dharmesh made quick work of the Santa Fe traffic, and we darted down an off-ramp, leaving the rest of the Bullrunners on the freeway. It was a gamble, but a necessary one. This could be the difference between placing on the podium and not placing.
It turns out we made a great decision, as we came out of Santa Fe in front. We were caught by the 700 hp Lingenfleter Corvette, Team Chaos, from New Orleans, and stuck with them as we made our way down Historic Route 66, another gamble. After pulling off for gas, things took a terrible turn.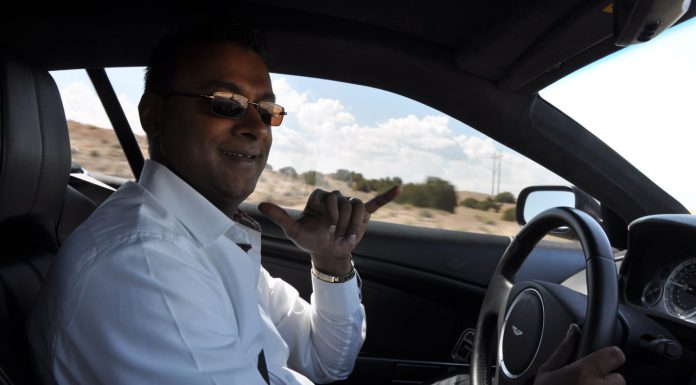 As Dharmesh fired up his Aston, the car struggled to get in gear, lurching around and showing signs of power loss. A few miles into our run, a warning message showed up, indicating the loss of the fuel pump and 2 cylinders. We called car expert and 'Car Chasers' TV star, Jeff Allen in the Pennzoil Shelby GT500 for his thoughts. He said we could probably limp the car to the checkpoint, but we should pull over and get a tow truck.
Completely gutted, and wanting to finish first, we didn't know what to do. The Porsche Cayman of Ben and Bjorn, and the Camaro of The Big Easy Bandits quickly passed us, leaving us in fourth place, not where we wanted to be. But even in limp mode, our route still paid off. We arrived in Eagar, AZ, in fourth place, but because Team 'The Ben's' and Team 'Big Easy Bandits' did not pick up a route card from the hotel, their times did not count. We were officially second!
The rest of the teams arrived, with Teams N.O. Legs, Car Chasers and Team Texas showing up soon after.
As we headed in for lunch a very dirty trick had been played. Billy Blatty from Team Big Easy Bandits had put a wheel lock on Dharmesh's Aston Martin in order to prevent him from navigating first to Scottsdale. But there was a silver lining; he hid a key inside the restaurant, and was going to text Dharmesh the location of the key once he was 10 miles out of the town, heading for Scottsdale. But Dharmesh had other plans, he called the police, hoping they could remove the boot. Fortunately, he found the key hidden inside a bottle of Ketchup, but had other plans. When the police showed up, Billy was detained by the police and told that Dharmesh was pressing charges for criminal damage to his Aston Martin. While inside the police car, we removed the boot, and I snuck it over to Billy's Camaro and slapped the lock on his rear wheel.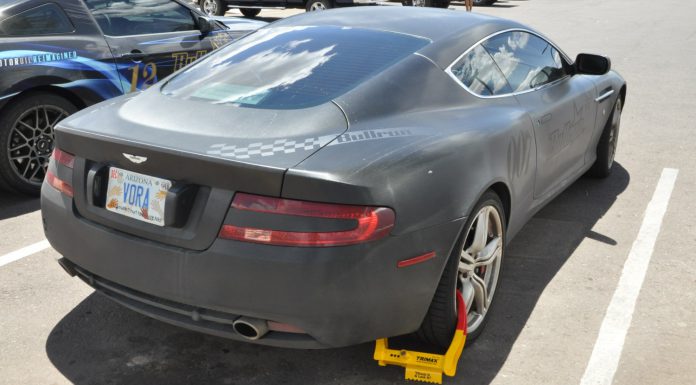 When the teams were about to leave, Billy was released. Unfortunately for Dharmesh, he had a spare key and promptly unlocked the wheel clamp. The route cards were handed out and we were on our way to Scottsdale, following Billy in his Camaro. Suddenly he pulled over and got out of his car, motioning for us to pull over too. He then threw a pant bomb at our windshield. But Dharmesh kept his cool, and did not activate his windshield wipers, which would smear the paint all over. We continued down highway 260 as the other Bullrunners turned around on a different route. It was clear that they did not want us to show up first.
We continued down our planned route, and caught up to Team Chaos in the Corvette. They agreed that our route was faster. We drove with the Chaos boys for a while until they had to stop for gas, then we were on our own for the last 150 miles to Scottsdale. We were constantly on the phone with Bobby, Dharmesh's teammate, who opted to ride along in the BMW M5 with Mike and Mike to give us the location of the other cars.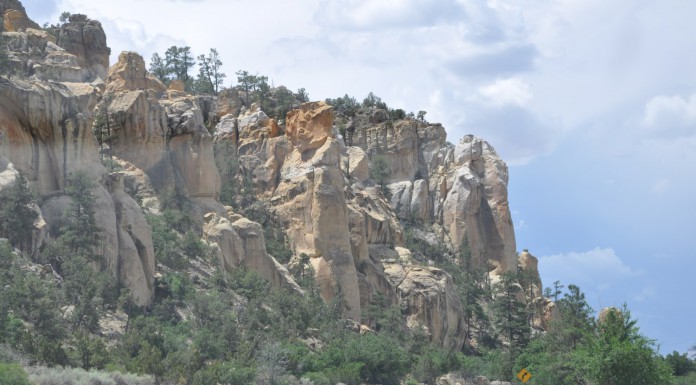 As we learned that the others hit some traffic, we gained a 30 mile lead on the rest of the teams. Dharmesh called in his friend to keep an eye on the Bullrunners and fill us in on their location as a backup. As Scottsdale came in sight, we started looking for the finish line, the Hi Fi Club. We were determined to show up first. As we rounded the corner, our hearts were racing. Nobody had arrived yet, Team 007 navigated to victory for this leg! I ran the route card to the check-in table for the final leg of Bullrun 2014!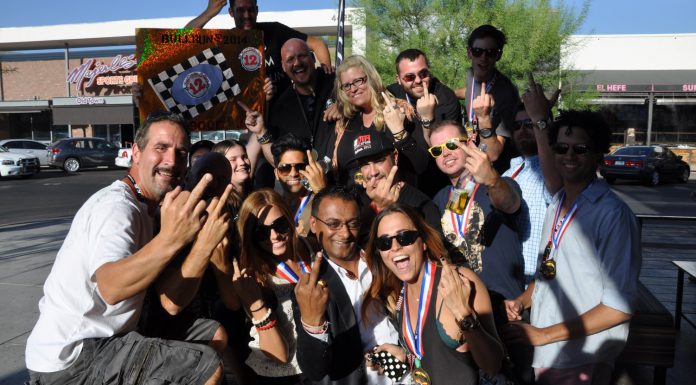 Fifteen minutes later, Team Chaos showed up in their Lingenfelter Corvette. Then Team Mustang Girls showed up third after skipping the checkpoint. Nearly held an hour later, the front runners showed up, with The Ben's in front and Team Big Easy Bandits behind.
What a wild ride! Dharmesh truly drove the balls off his Aston Martin! He and I picked a route we were confident was faster, and it turned out that we were right! Now to figure out who placed where at the awards ceremony!