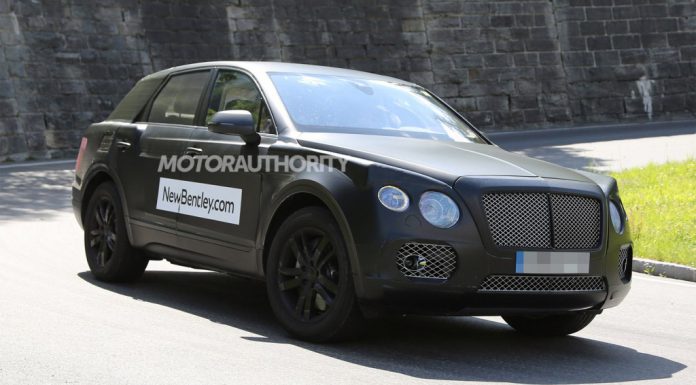 After recently being spied testing disguised as an Audi Q7, the long-awaited Bentley SUV has now been spied testing in its own skin for the very first time!
Despite wearing a lot of camouflage, this prototype gives us our best look at the overall proportions of the Bentley SUV thus far. Additionally, we can see the updated design from the original EXP 9 F concept car at the front end with the adoption of Bentley's customary quad headlights.
According to Bentley, the SUV will be the most powerful and luxurious SUV to ever grace the market and will follow the brand's hallmarks of luxury, performance, quality and craftsmanship. Chairman and Chief Executive at Bentley Motors, Dr. Wolfgang Schreiber, claimed it "will create a completely new segment in the SUV market," during a press conference in London.
It isn't yet known just what will power the Bentley SUV. However, a previous prototype was fitted with Bentley's 6.0-litre twin-turbocharged W12 engine which delivers over 600 hp and 605 lb-ft of torque. Currently, this engine is utilised in the Continental GT Speed and seems appropriate for the Bentley SUV considering just how luxurious and expensive it is expected to be. We do know that one year after the SUV hits the market in 2017, a plug-in hybrid variant will be made available.
[Via Motor Authority]