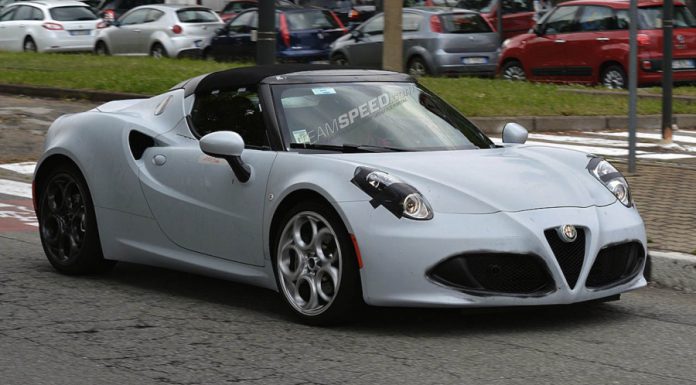 Following the worldwide debut of the stunning Alfa Romeo 4C Spider Concept at the Geneva Motor Show 2014, the production version has been spied testing for the very first time.
As the above image shows, the production Alfa Romeo 4C Spider will share many design similarities from the concept. To keep weight down, this prototype features a lightweight fabric top and more importantly, carbon fibre rollover bars and a carbon windscreen frame. All up, the 4C Spider is expected to tip the scales at just 60 kg more than the lightweight coupe.
One of the most prominent changes between the concept and this prototype is the removal of the central, dual exiting exhaust system of the concept in favour of the more conventional dual exhaust system of the coupe. Other than that, the more conventional headlights from the concept are expected to come standard on the Spider. They were recently made an option on the coupe in the place of the odd carbon fibre ones.
Underneath, the Alfa Romeo 4C Spider will feature the same 236 hp 1.75-litre four-cylinder engine with a six-speed dual-clutch gearbox as the coupe. The combination of the low weight with a power dense engine means the 4C Spider should be capable of hitting 100 km/h sprint in 4.5 seconds and a top speed of more than 250 km/h.
[Via Teamspeed]