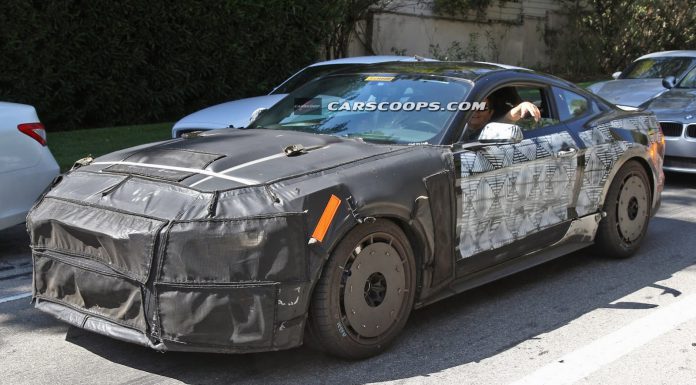 We know that Ford is working on a host of high-performance variants of the latest 2015 Ford Mustang. Possibly the most performance oriented model of all of these will be dubbed the Mustang GT350. Now new spyshots of the upcoming variant have emerged.
According to reports, the new Ford Mustang GT350 will actually replace the outgoing GT500. However, Ford has yet to confirm or deny these suggestions. Nevertheless, the new Mustang GT350 will drop the Shelby nameplate.
It remains unclear just what is powering the car. However, this prototype does feature a redesigned hood with a massive scoop. This scoop pretty much confirms that the GT350 will feature some sort of forced induction. Based on the history of high-performance Mustangs with superchargers, we think that is the best possibility. According to the photographers behind the photos, the tachometer redlined at 6500 rpm and top out at around 7000 rpm. When it is all said and done, expect the new Ford Mustang GT350 to top the 600+hp output of the recently revealed 2015 Dodge Challenger SRT Hellcat.
Interestingly, the new Mustang GT350 has been spied testing as far back as September last year! Consequently, Ford certainly isn't rushing its development to ensure everything is perfect. As for a release date, well that is a real mystery, but a debut sometime this year is likely.
[Via Carscoops]