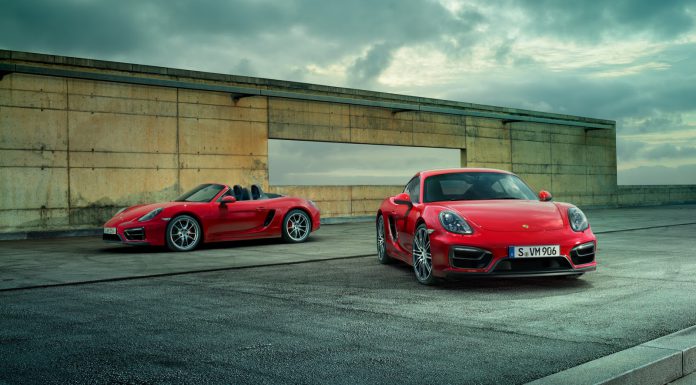 Not too long ago, it emerged that the next-generation Porsche Boxster and Cayman duo would feature a four-cylinder boxer engine. Now, Car Magazine has revealed that three different flat-four engines are currently being developed by Porsche ranging from 1.6-litres to 2.5-litres.
Jumping right into the specifics, it is reported that a 1.6-litre flat-four will deliver 210 hp, a 2.0-litre flat four producing 286 hp and 295 lb-ft of torque and the range topping 2.5-litre flat-four pumping out 360 hp and 347 lb-ft of torque. As you'd imagine, all of these units are turbocharged.
A little bit of mystery surrounds the 1.6-litre unit because it is speculated that engine would power a sub-Boxster sports car. However, it is believed that project has been thrown in the trash so the future of this engine is still very much in the air.
As for the 2.0-litre and 2.5-litre engines, they will be offered in the next-generation Porsche Boxster and Cayman and down the road, much of the Porsche line-up is expected to be available with the small turbocharged engines.
When news originally emerged that the next Boxster and Cayman would utilise a turbo flat-four, Porsche confirmed this powerplant could deliver up to 395 hp. As a result, we expect the quoted 360 hp from the 2.5-litre engine not to be the absolute limits of this engine.
[Via Car Magazine]