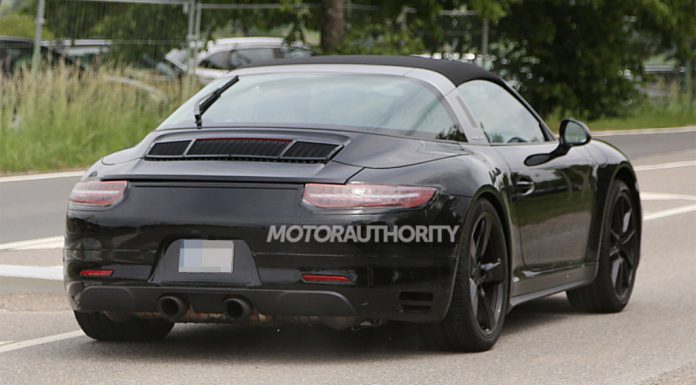 In recent months, a few rather mysterious Porsche 911 prototypes have been spied testing. Believed to be the new 991 911 GTS and GTS Cabriolet, the cars are been particularly noteworthy due to their active front air intakes and duel, central exiting exhaust pipes. Now new images have emerged showing a Targa GTS.
As it stands, the 2014 Porsche 911 Targa is available in Targa 4 and Targa 4S specifications. The entry-level Targa 4 features a 3.5-litre, flat-six engine delivering 350 hp. By comparison, the 911 Targa 4S manages to push out an impressive 400 hp from its larger 3.8-litre engine. The Porsche 911 GTS is expected to feature this same engine but will likely deliver over 400 hp but less power than the 475 hp 2014 Porsche 911 GT3.
The Porsche 911 GTS is likely to be the first new 911 model to feature the mid-life, facelift of the current 991-generation car. It is expected to receive modified LED daytime running lights and is also pinned to receive modified taillights. Not too long ago, the facelifted Porsche 911 Turbo was spied testing at the Nurburgring.
It is likely that the Porsche 911 GTS will be one of just many new variants offered for the latest 911 Targa. Alongside it, we expected to see rear-wheel drive Targa and Targa S models added in the future.
[Via Motor Authority]