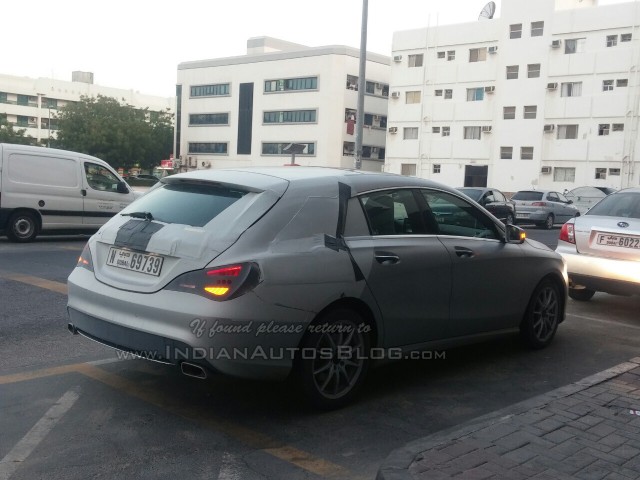 The upcoming Mercedes-Benz CLA Shooting Brake has been spied testing again albeit this time in Dubai.
As the image above shows, the CLA Shooting Brake will essentially be identical to the sedan with the obvious exception of the redesigned rear end, Just like prototypes spotted as far back as November last year, this prototype only features a little bit of light taping over the new rear.
Under the hood, the Mercedes-Benz CLA Shooting Brake will feature the same engines as the standard CLA-Class. These include a 1.5-liter diesel with 109 hp, 1.8-litere diesel with 136 hp, 2.1-litre diesel with 170 hp, 1.6-litre petrol delivering either 122 hp or 156 hp and a 2.0-litre petrol pumping out 211 hp. Additionally, a CLA 45 AMG Shooting Brake will be available and was spied testing a couple of months ago.
The Mercedes-Benz CLA 45 AMG is, mechanically, almost identical to the Mercedes-Benz A 45 AMG which received its official launch around the same time. Both cars feature the new 2.0 litre turbocharged four-cylinder and both produce a substantial 360 hp peak power figure. The differences, aside from the bodywork, are subtle but they are definitely present especially when it comes to driving the pair. We expect no different from the Shooting Brake.
[Via Indian Autos Blog]