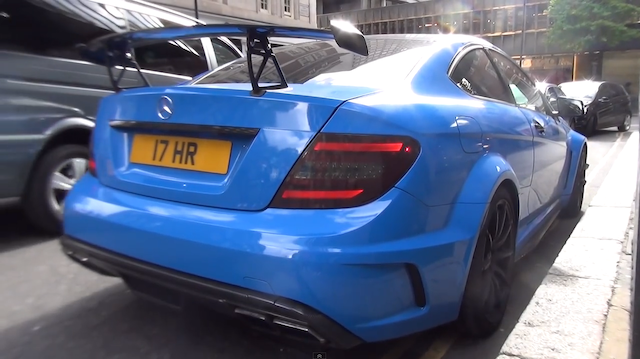 The Mercedes-Benz C63 AMG Black Series one of the most brutal cars to come from the dark depths of the AMG Black Series department. It's crazy naturally aspirated 6.2 litre engine is one of the very few brutal gas guzzling engines that remains not only at Mercedes but in the automotive world as even Mercedes is phasing this engine out to be replaced with smaller twin-turbo 5.5-litre V8s and twin-turbo 4.0-litre V8s. Here we have a video of a blue wrapped example in London that has had its catalytic converter system removed allowing the engine to breath and roar without be muted. As you can see and hear, it sounds fantastic!
[youtube]http://youtu.be/SXRWwQlqm8I[/youtube]
The C63 Black Series is a hardened, faster, power oozing, tyre-shredding animal that has been created by the looney Black Series department at AMG. The results are very impressive indeed. The standard C63′s respectable 451 bhp is dwarfed by the Blacks 517 bhp and it is also 2 tenths of a second quicker to 100 km/h, the sprint is over in just 4.2 seconds.