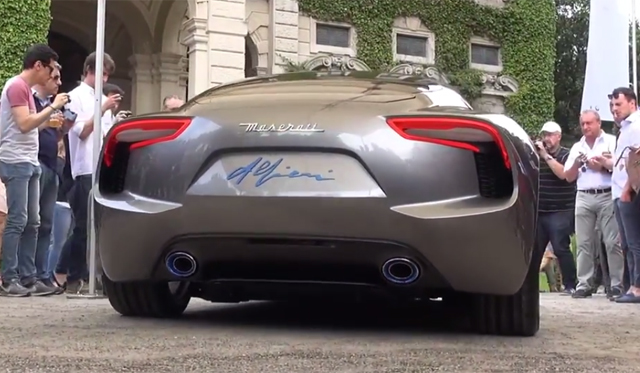 Following on from its worldwide debut at the Geneva Motor Show 2014, the stunning Maserati Alfieri recently made an impressive appearance at the Concorso d'Eleganze at Villa d'Este 2014 and was filmed starting up and revving for the very first time!
[youtube]https://www.youtube.com/watch?v=O7aROFPkB34#t=71[/youtube]
Earlier this month, it was confirmed that the Maserati Alfieri will reach production in 2016. The year after, the Alfieri Cabriolet will arrive. The concept filmed here does preview the design of the upcoming production car but it is actually based on the Maserati GranTurismo MC Stradale.
As a result, the concept features the GranTurismo's screaming 4.7-litre V8 engine delivering a brutal 444 hp. As you could imagine, the car sounds absolutely incredible.
When the Maserati Alfieri coupe and cabriolet models hit the market however, they will be powered by a twin-turbocharged V6 engine. A host of differently powered variations will be offered with power ranging from 404 hp, 443 hp, and an extremely impressive 512 hp. As a result of this, it can be assumed that three different versions of the Alfieri will be offered and consequently, it should act perfectly as the Italian answer to the Jaguar F-Type Coupe and regular drop-top.
Additionally, the Alfieri will be available both in rear wheel drive and all-wheel drive configurations.