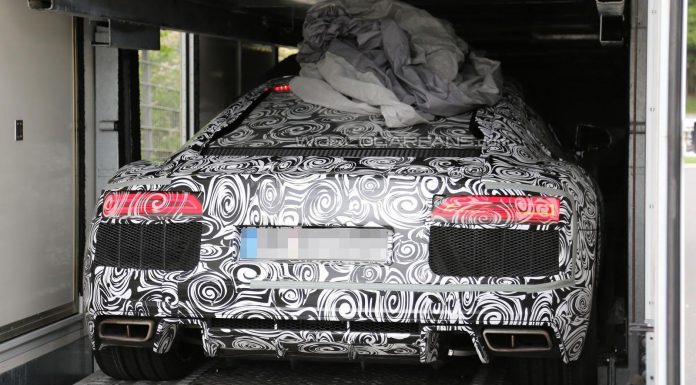 The upcoming, next-generation 2016 Audi R8 has been spied testing up close and personal while being unloaded from a trailer.
While this particular car is still covered in camouflage, the camo is actually body tight and as a result, showcases many of the revolutionary design features of the new R8. This was a very similar story with the Lamborghini Huracan where final prototypes featured tight camouflage all around, perfectly displaying its new design.
In the image above, the revised rear end is clearly visible with it incorporating a new rear diffuser, more rectangular taillights and air vents as well as rectangular exhaust pipes rather than the circular ones currently used. From the front, the new R8 will also feature more aggressive and sharper lines and this will be particularly evident in the redesigned headlights.
Beneath the body, the 2016 Audi R8 will be thoroughly upgraded from the outgoing model. It will be built around the same carbon fibre and aluminium chassis as the Huracan but feature a longer wheelbase and wider track.
At launch, the 2016 Audi R8 will be available with tweaked variants of the 4.2-litre V8 and 5.2-litre V10 engines currently utilised. However, down the road a forced induction engine is likely to be introduced at some stage during its production run with Ulrich Hackenberg recently stating that it "will need a turbocharged engine."
[Via World Car Fans]