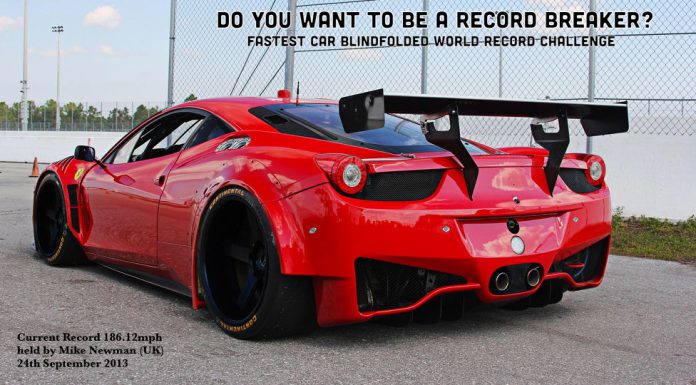 Last year, Mike Newman set a top speed world record for a blind person at 186 mph. Now, U.K. based Extreme Motorsport is offering is offering you the chance to beat this record blindfolded.
The company claims it will utilise a Ferrari 458 Challenge racer from the Rollcentre Racing Team for the record attempting run at the Elvington Airfield in York. Former F1 racer and Top Gear's original black Stig, Perry McCarthy will be driving the chase car and help instruct the driver on their performance.
It isn't fully clear just how you can go into the running to take part in the record setting run but when behind the wheel of a Ferrari 458 Challenge, Newman's record set in a Porsche 911 GT2 could conceivably tumble.
However, confirmation came a couple of months ago that Newman will aim to break the 200 mph barrier in a heavily modified 1000 hp Nissan GT-R this year. The car will be prepped by Litchfield Motors.