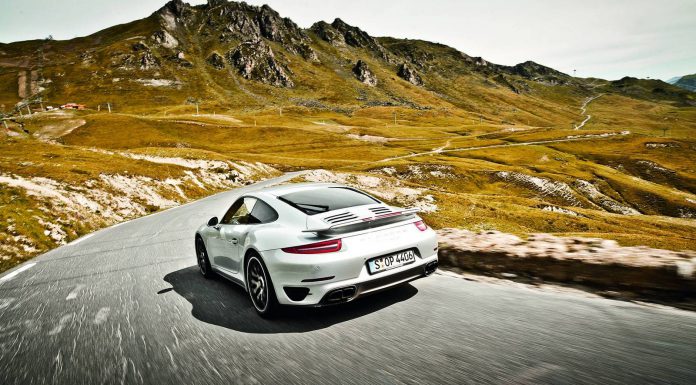 As the fastest car in the Porsche line-up this side of the 918 Spyder, the 2014 911 Turbo S is a truly exceptional car to drive.
Powering the 2014 Porsche 911 Turbo S is a brutal 3.8-litre twin-turbocharged direct injection six-cylinder boxer engine producing 560 hp. This potent engine is then mated to Porsche's epic seven-speed PDK transmission fitted with a start-stop system to improve efficiency. As always, power is sent to all four wheels meaning the new 911 Turbo S can hit 100 km/h from a standstill in just 3.1 seconds and a top speed of 318 km/h.
Just like the latest generation 911 GT3, the 911 Turbo S features four wheel steering. At speeds of up to 50 km/h, the rear wheels turn in the opposite direction to the front wheels. This creates the effect of having a car with a 250 mm shorter wheelbase. Once the car reaches 80 km/h, the rear wheels steer right along with the front wheels and the driver will experience the same effect as a longer wheel base of 500 mm and that means more stability at high speeds.
All of this technology combined results in a Nurburgring lap time below the 7 minute and 30 seconds mark.
As with all Porsche's, the latest 911 Turbo S is also about style and looking gorgeous in the Pyrenees!