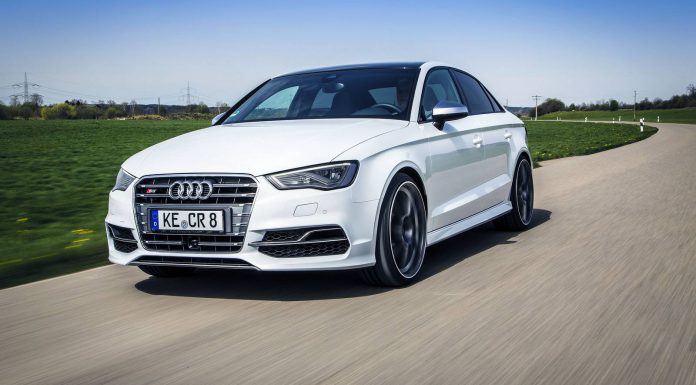 ABT have released their first stage of updates for the brand new Audi S3 Saloon. Featuring 370 hp and 460 Nm, the ABT Audi S3 Saloon has RS levels of performance in a more subtle package. The big draw is of course the extra practicality that the Saloon body offers over the hatchback.
The new ABT-tuned Audi S3 Sedan gets an extra 70 hp and 80 Nm more than the serial model. Top speed has increased to 265 km/h as a result and the zero to 100 km/h is now as low as 4.5 seconds. The power comes via a new ABT designed ECU control unit. The package has been tested on the rolling road and on the actual road
The ABT Audi S3 Sedan also gets a set of 20 inch DR wheels. They feature either a gun-metal or mystic-black finish. Optionally, the ABT Audi S3 Sedan is available with 18 and 19 inch versions of these wheels for better handling. The ABT Audi S3 Sedan is also available with ER-C and CR wheels.
Light updates have been applied to the bodywork. The ABT Audi S3 Sedan benefits from ABT fender inserts manufactured from high-quality ABS plastic. To finish off the package, ABT have worked on the interior ever so slightly. The ABT integrated entrance lights, floor mats and air caps provide a difference inside.