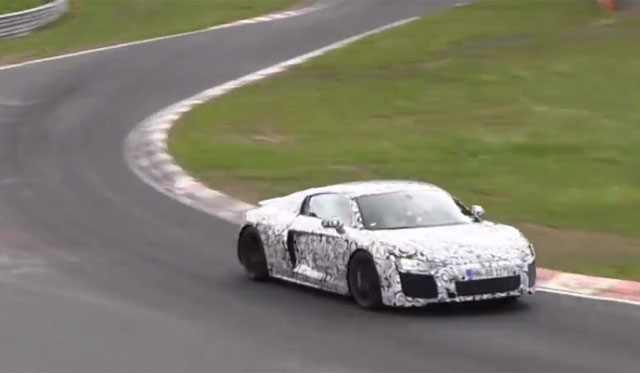 The upcoming V10 powered 2016 Audi R8 has been filmed testing ferociously on the Nurburgring ahead of a pinned launch next year.
We know that this example features an updated variant of the 5.2-litre V10 from the current R8 due to its exhaust note. By comparison, the 4.2-liter naturally-aspirated V8 engine also available for the Audi R8 sounds dramatically different. Interestingly, despite this V10 powertrain sharing many of its components with the new Huracan's engine, it sounds quite different.
[youtube]https://www.youtube.com/watch?v=ib9B4uaa6Ok#t=160[/youtube]
Of course, the 5.2-litre V10 engine isn't the only thing the next-generation R8 will borrow from the Huracan. It will be built around the same carbon fibre and aluminium chassis but feature a longer wheelbase and slightly wider track. An updated variant of the current car's S tronic seven-speed automatic transmission is expected.
At launch, the 2016 Audi R8 will be available with the aforementioned 5.2-litre V10 engine as well as a revised version of the current V8. However, down the road a forced induction engine is likely to be introduced at some stage during its production run with Ulrich Hackenberg recently stating that it "will need a turbocharged engine."
From a styling standpoint, we know it will feature sharper lines particularly in the headlights and taillights. Unfortunately, the recognisable side blades are expected to be ditched.