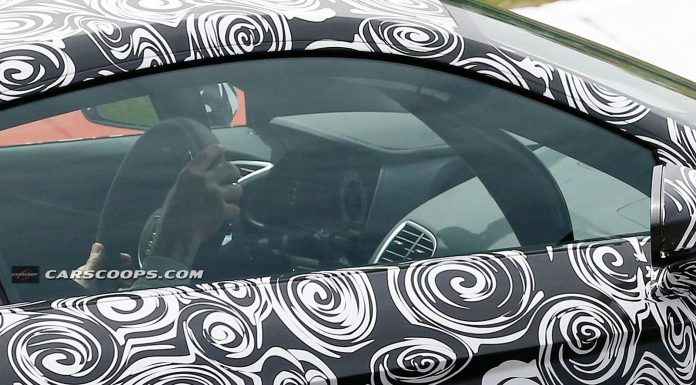 With Audi feverishly testing the next-generation R8, it was only a matter of time before the first spy shots emerged showing the interior. Well that time has come with the revised German supercar's digital instrument panel being on full show for the very first time.
Just like its brother from another mother, the Lamborghini Huracan, the 2015 R8 will usher in a complete digital display in place of the analog gauges used since the car's launch in 2008. Where the new Audi R8 will differ from the Huracan's display however, is that it is more likely to closely resemble the display of the Audi TT and therefore incorporate the MMI infotainment system while also being highly customisable.
Exterior styling for the next-generation 2016 Audi R8 remains somewhat of a mystery but it is expected to feature much sharper lines not just across the body, but also present in the headlights and taillights than the outgoing model.
Additionally, the trademark Audi R8 side blade is expected to be ditched but overall, the size and proportions of the new R8 will be similar to the current car.
As long expected, the 2016 Audi R8 will share many of its technologies with the brand new Lamborghini Huracan. For example, it will be built around the same carbon fiber and aluminium chassis albeit with a longer wheelbase and wider tracks and will utilise the Huracan's upgraded 5.2-liter V10 in range-topping specification. The new 2016 Audi R8 will also utilise a seven-speed dual-clutch automatic transmission like the Huracan and be available as an all-wheel drive model only.
[Via Carscoops]