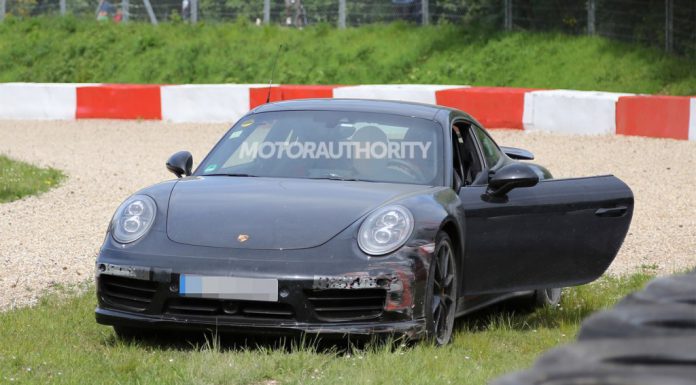 Porsche is currently working on the mid-life facelift for the 911. While the facelifted car won't debut this year, previous Porsche experience tells us that when it does launch, all 911 variants will receive the tweaked styling and any other changes set to feature in the facelifted model.
New spyshots have now emerged showing a 2016 Porsche 911 Turbo testing at the Nurburgring. The driver was evidently pushing the 911 Turbo to its absolute limits as the test driver actually collided with a crash barrier which left some obvious damage at the front end.
We know that the facelifted Porsche 911 will receive slimmer LED daytime running lights and is also expected to feature active front air intakes which can be opened and closed at different speeds to improve aerodynamics.
At the rear, this prototype features some camouflage across the bumper, diffuser and taillights suggesting that some changes are also going on there. It is expected that base 911 variant will receive some minor power upgrades in facelifted form and we can expect to see the same with the new 911 Turbo and Turbo S. As it stands, they produce 520 hp and 560 hp respectively.
Alongside the facelifted 911 models, a brand new variant dubbed the Porsche 911 GTS is expected to launch.
[Via Motor Authority]