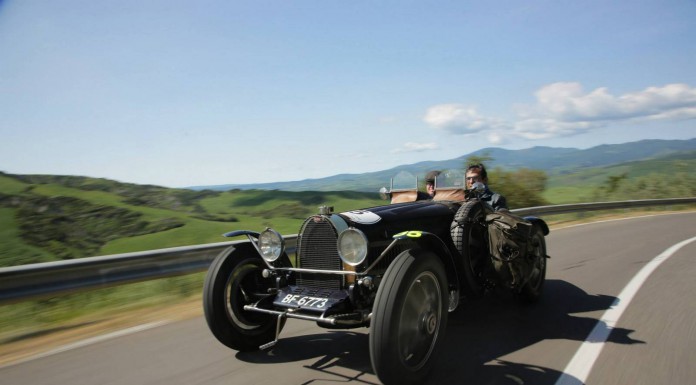 As you may have already heard from our on-site reports, the annual Mille Miglia endurance race recently ran from May 15-18. The historic re-enactment event attracts cars from various brands and eras, including those that raced in the actual Mille Miglia which was held from 1927 all the way until 1957 when it was cancelled due to mounting safety concerns. This year, Bugatti brought three vehicles representing both its rich heritage as well as its current efforts.
The trio of Bugattis was made up by a Type 35, a Type 51 and a Veyron Grand Sport Vitesse. The Type 35 was one of Bugatti's most successful racing models, and featured a 2.3-liter inline eight-cylinder engine producing 118 horsepower. The car also weighs only 750 kilograms and had perfect 50/50 weight distribution.
The Type 51 represents the highpoint of Bugatti manufacturing, equipped with technology far ahead of its time. It featured a 2.3-liter inline eight-cylinder engine with double overhead cams, still relatively rare technology for the era, as well as a supercharger. It produced nearly 190 horsepower, but despite this, was not as successful as the Type 35 in racing.
Finally, the third model in Bugatti's Mille Miglia lineup, the Veyron Grand Sport Vitesse. The Vitesse hardly needs an introduction, but as you may know, its 8.0-liter W16 engine produces 1,200 horsepower from 3,000–5,000 rpm, allowing it to accelerate from 0–100 km/h just in 2.6 seconds. Nearly 1000 miles were put on this Veyron just over the course of the Mille Miglia alone!