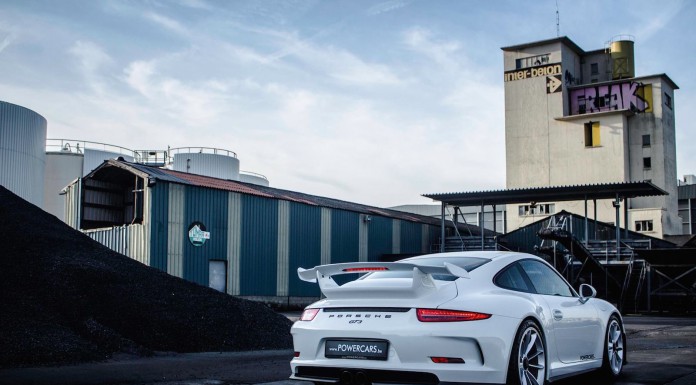 The latest edition of the Porsche 911 GT3, the 991 GT3, is a focused, hardened track-day monster. Unfortunately after a serious fault was discovered, all GT3 are having new engines fitted and are currently off the road. Prior to the recall Sarah Hongerloot took this stunning image that is todays Photo Of The Day!
For the new Porsche 911 GT3, its engine, transmission, body and chassis are entirely new. The Porsche 991 GT3 gets a 3.8-litre flat engine capable of developing 475 hp at 8,250 rpm. It is an adaption of the engine used in the current generation Porsche Carrera S but with only a few common parts. The engine weighs around 25 kg less than the previous unit with a power output of 125 hp/litre of displacement.
Performance is as follows, 0 to 100 km/h is passed after just 3.5 seconds, and 200 km/h in less than 12 seconds. The top speed of 314 km/h is reached in seventh gear of the PDK transmission. The lap time on the Nürburgring-Nordschleife was a very impressive 7:30 minutes. The last statistic is particularly important. Around 80 percent of Porsche 991 GT3 customers also drive their cars on race tracks.