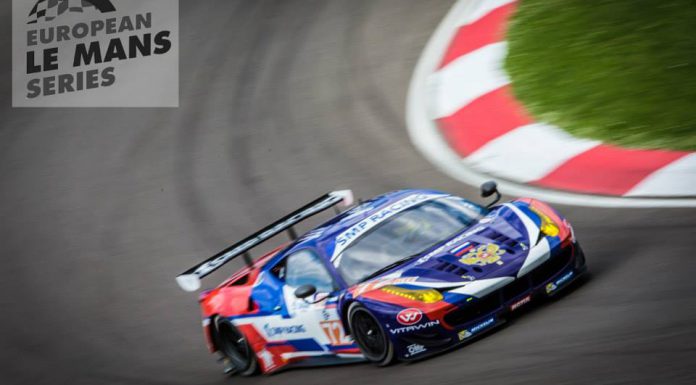 Round 2 of the European Le Mans Series took place at the Imola Circuit this past weekend with the 4 Hours of Imola. Some teams used the race as practice for the "big one", the 24 Hours of Le Mans. The No.38 JOTA Sport Zytek LMP2 car crossed the finish line first with Simon Dolan at the wheel.
It was a lucky win for Jota Sport as the No.43 Morand Racing Morgan had passed Jota 14 laps away from the finish. Unfortunately, the car suddenly stopped after suffering an engine failure with only 5 minutes to go. Jota regained the lead and went ahead to win in LMP2 class and overall. Sebastien Loeb Racing finished in second in LMP2 class with the No.24 Oreca 03 – Nissan. Completing the LMP2 podium finishes was the No.36 Signatech Alpine.
The fun was in the LMGTE class where Ferrari completely dominated, it was a showcase of the finest drivers in the prancing horse machines. In the end, Andrea Bertolini took the No.72 SMP Racing Ferrari 458 Italia across the finish line first to win in this class. Second place was another Ferrari; the No.81 Kessel Racing Ferrari which had led for most part of the race before a safety car interrupted allowing the No.72 SMP Ferrari to take the lead.
The No.66 JMW Ferrari 458 of Daniel McKenzie, George Richardson and Daniel Zampieri was the third Ferrari making it a 1-2-3 finish for Ferrari in LMGTE. In fact, the fourth and fifth places also went to Ferraris, the No.56 AT Racing and No.58 Team SOFREV-ASP. The chain was only broken in 7th place by the the No.76 IMSA Performance Matmut Porsche 911 GT3 RSR.
Ferrari was not done winning, the GTC class was also another Ferrari dominated territory. A similar 1-2-3 finish was set out by various Ferrari teams. In first place was the No.60 Formula Racing Ferrari 458 Italia GT3 of Danes Johnny Laursen and Mikkel Mac and Italian Andrea Piccini. SMP Racing took the second and third places with their No.73 and No. 71 Ferrari 458 Italia GT3.
As for the LMP2 cars, action resumes at the 24 Hours of Le Mans on June 14th while the full ELMS grid gets back in action on July 20th in Austria for the 4 Hours of Red Bull Ring.