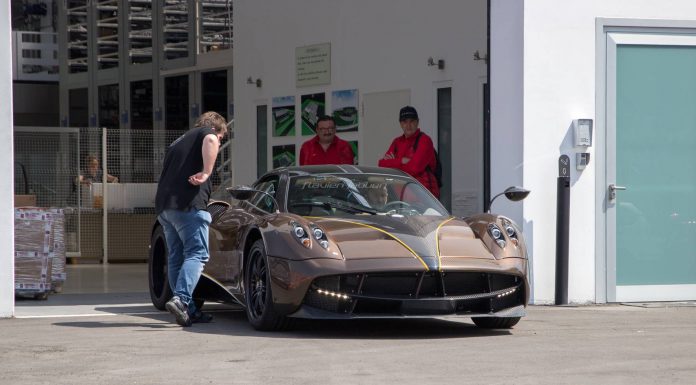 No less than five Pagani Huayras were recently spotted undergoing final preparations before being delivered to their lucky and very rich customers.
The most eye-catching example is a Huayra with brown tinted carbon fiber, along with yellow and white pinstripping. The car also features bare carbon fiber on part of the hood, the roof and pillars, side skirts and rear end and the Track Pack. Another Huayra recently spotted is the sixth car destined for the U.S. market with it featuring a reverse carbon fiber and red finish as well as bright gold wheels and the optional Track Pack.
Another U.S. bound Huayra spotted at the factory is a simply gorgeous matte black example with gloss carbon fiber accents around. Additionally, it features black wheels and black brake calipers arguably making it the most stealthy looking Huayra to be produced thus far and again, includes the optional Track Pack.
The fourth car undergoing final preparations is one finished in Aymara Grey and again, with a host of bare carbon fiber components. Once again, it features the Track Pack.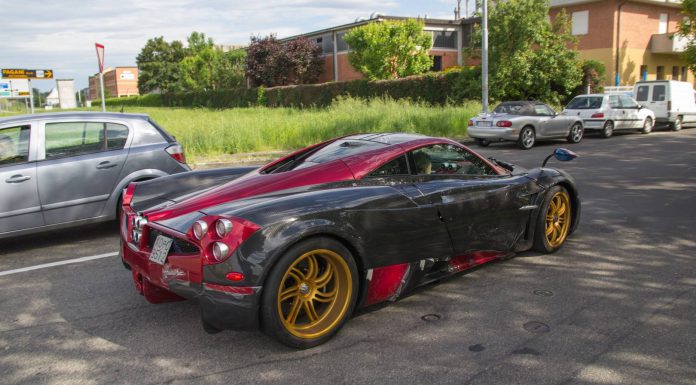 Finally, a bright yellow and brown example is being prepared for its owner in Hong Kong. It features the Track Pack, Geneva Yellow II paint, bare carbon fibre, brown tinted carbon fibre as well as some unique airbrushing on the sides!
Photos courtesy of Flavien Jaouen Photographie and Darren Begg Photography!
[Via Prototype Zero]