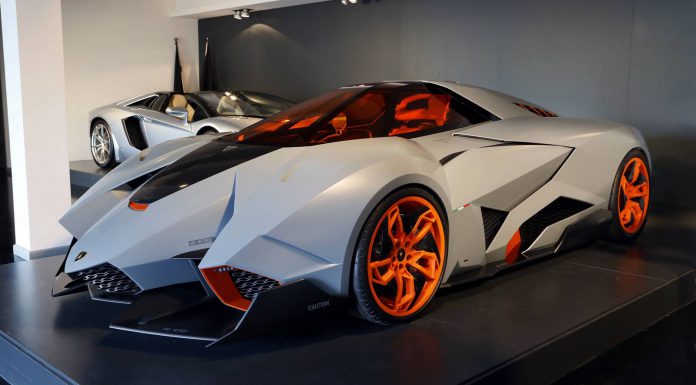 Today Lamborghini announced that it has installed the Lamborghini Egoista Concept within the Lamborghini Museum at its headquarters. The Walter De Silva designed concept will now be available for visitors to the Lamborghini factory to see. It looks as though the car has been given a place next door to the Lamborghini shop and behind the general reception for the time being. We are told it will be placed into the museum in the future.
The unique design is inspired by a Apache helicopter. Whereas the helicopter pilot can eject from his vehicle, the Egoista cockpit is secured firmly to the Egoista chassis. Carbon fiber and aluminum line the interior and the exterior panels. Visually, it looks very similar to the Tremontana.
The Lamborghini Egoista doesn't have conventional road lights, instead it features LED clearance lights. It features two white front lights, two red rear lights, a red flashing light in the upper part of the tail, two orange bull's eyes as side markers, and a further two lights on the roof, red on the left and green on the right.
The structure is based on the Lamborghini Gallardo architecture with a 5.2-liter V10 engine supplying it with 600 horsepower. Performance specifications were never announced.