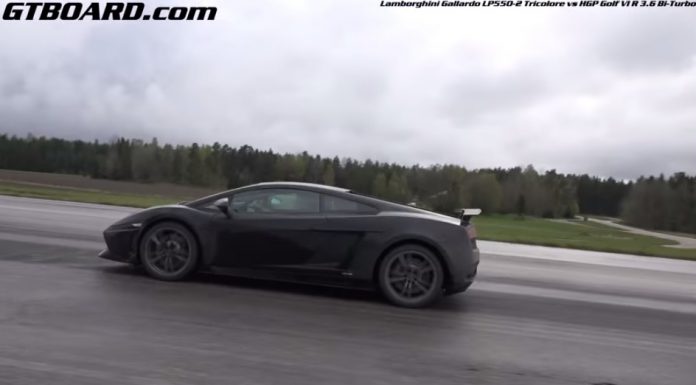 Normally, a roll race between a Lamborghini Gallardo LP550-2 Tricolore and a Volkswagen Golf R would result in a laughable outcome. You would expect the Lamborghini to embarrass the VW, but the tables are slightly turned when the unassuming hot hatchback has been breathed on by German tuning company HGP-Turbo.
According to HGP, this Golf R has had its 2.0-liter four-cylinder engine swapped out for a more potent 3.6-liter V6 unit from a Passat R36. They didn't stop there though, they also twin turbocharged it, making it good for a claimed output of 734 horsepower and 516 lb-ft of torque. It will also accelerate from 0-100 in 2.9 seconds and from 0-200 km/h in about 8.9 seconds!
By comparison, the Lamborghini Gallardo LP 55-2 produces 550 horsepower and 397 lb-ft of torque from its 5.2-liter V10. So it's down on power, but after all, it's a Lamborghini, so it should be able to make mincemeat of a lowly VW, right?