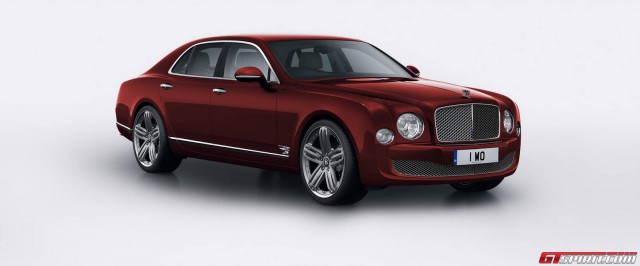 15 unique Bentley Mulsanne 95 models will be offered for sale as part of the British company's 95th anniversary. All 15 cars will be offered exclusively to Bentley's UK clientele and constructed by Bentley's Mulliner division in Crewe.
Each car will be finished in British-inspired colours and completed with unique wood veneers and a range of bespoke design cues. Three exclusive exterior colours will be offered including Britannia Blue, Empire Red and Oxford White. The Mulsanne's Flying B bonnet mascot and 21 inch wheels also get a dark tint finish.
Bentley's passion for uncovering beautiful and sustainable wood veneers that bring character and great decorative taste throughout a cabin means the company has a team of experts searching around the globe for new designs. For this distinctly British model, however, the team found inspiration closer to home.
The Mulsanne 95 features a particularly rare walnut tree veneer from a tree estimated to be between 300 and 400 years old. It fell during a heavy storm at Fulbeck Hall in Lincolnshire back in 2007. The veneer forms a 'ring of wood' that encompasses the entire interior. The complex pattern displays a rare rippled effect.

The interior also gets illuminated tread plates which feature a bespoke 'NINETY FIVE' script and union flag details. A '95' emblem has been embroidered onto the front and rear seats as well as featuring on the passenger fascia panel. Elsewhere, the Bentley Mulsanne 95 gets a blue and white two-tone leather split with red contrast stitching to elegantly continue the British theme.