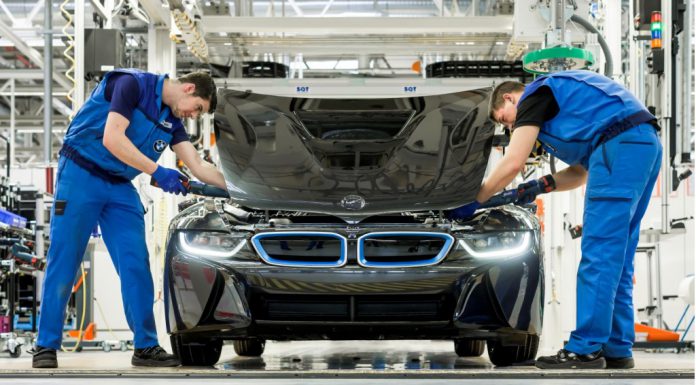 While the BMW i8 sports car has receive a lot of praise since being revealed, it can be confirmed that less than 500 examples will be sold in the United States this year. The information comes straight from CEO of BMW of North America Ludwig Willisch.
Sales of the BMW i8 will begin in the U.S. with prices starting at $136,625. It is currently unclear how many units of the i8 the German marque will sell in the U.S. in the coming years, but expect it to arrive in limited numbers for the entirety of its production run.
The drive system of the i8 utilises a brand new three-cylinder petrol engine with BMW TwinPower Turbo technology. From 1.5 litres, the i8 manages an output of 231 hp, a maximum torque of 320 Nm. Power is sent to the rear wheels via a six-speed automatic gearbox. The petrol engine is supplemented by an electric motor with an output of 131 hp and maximum torque of 250 Nm. The power from this lithium-ion high-voltage battery is channeled through the front wheels via a two-stage automatic transmission.
Alongside the impressive powertrain, the BMW i8 features an advanced 'LifeDrive' architecture. This platform features the carbon fibre reinforced plastic monocoque dubbed the 'Life' and the aluminium module incorporating the i8's powertrain called the 'Drive'. One of the most important aspects of the BMW i8 is its heavy use of carbon fibre which comes from the American plant which recently announced it will triple its annual carbon fibre production up to 9000 tons.
[Via Automotive News]