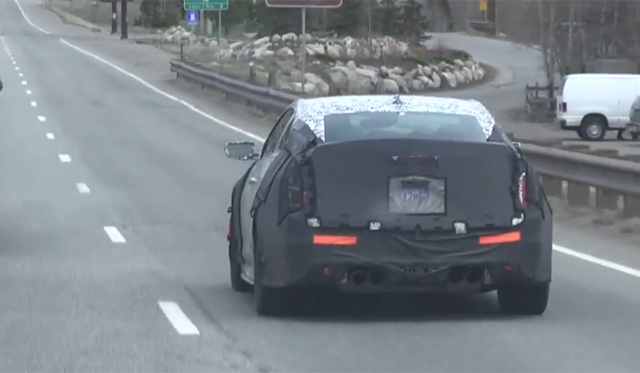 The upcoming next-generation 2016 Cadillac ATS-V Coupe has been spied testing for the very first time by the crew at The Fast Lane Car. If you can excuse the extremely annoying music, it is interesting to see the Coupe variant undergoing high-altitude, cold-weather testing.
[youtube]https://www.youtube.com/watch?v=Y6wiZxnz7Es[/youtube]
According to Motor Trend, the car will receive a twin-turbocharged V6 engine displacing 3.6-liters from Cadillac and delivering a total of 425 hp. Mated to this engine is expected to be a seven-speed manual transmission available as an option. Alternatively, an eight-speed automatic transmission is expected.
Further down the road, a brand new dual-clutch transmission could arrive early next year. If all of this news wasn't enough, then get this, Cadillac is planning an even more potent model set to be dubbed the Cadillac ATS-V+. This even more performance biased variant is set to receive a powerful V8 engine and could hit the market by around 2017. While the launch of such a car is so far away, it is speculated that it could receive the 625 hp 6.2-liter supercharged LT4 V8 engine from the recently launched 2015 Corvette Z06.
As for the standard 2015 Cadillac ATS Coupe, it will get two engine choices from launch. The first is a 2.0 litre turbocharged four-cylinder engine, upgraded from the current ATS sport sedan to deliver nearly 14 per cent more torque. The figures are 272 horsepower with 295 lb-ft (400 Nm) of torque. The second engine in the range is the 3.6 litre V6, rated at 321 horsepower and 275 lb-ft of torque (373 Nm).