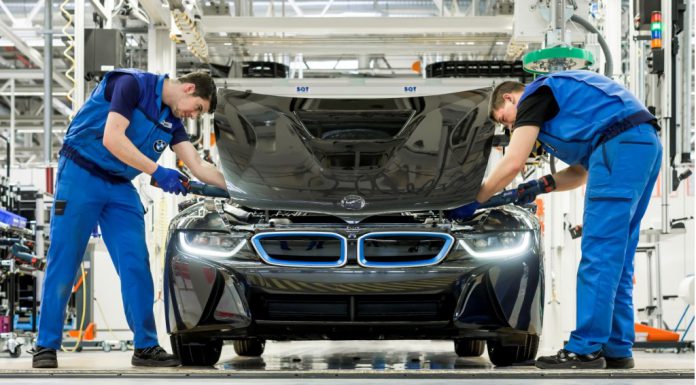 Largely speaking, production cars feature much more restrained styling than the concept cars on which they are based. However for the BMW i8, that isn't exactly the case as the production car has maintained many of the futuristic elements of the numerous concept cars released in the past few years. Additionally, with no direct rivals, the hybrid sports car really is leading the pack with its technology and lightweight carbon fibre construction,
In order to give us an in-depth look into the production of the 2015 BMW i8, the German marque has released the following mega-galleries.
Just briefly, the BMW i8 is based around the 'LifeDrive' architecture. This platform features the carbon fibre reinforced plastic monocoque dubbed the 'Life' and the aluminium module incorporating the i8's powertrain called the 'Drive'. One of the most important aspects of the BMW i8 is its heavy use of carbon fibre which comes from the American plant which recently announced it will triple its annual carbon fibre production up to 9000 tons.
The drive system utilises a brand new three-cylinder petrol engine with BMW TwinPower Turbo technology. From 1.5 litres, the i8 manages an output of 231 hp, a maximum torque of 320 Nm. Power is sent to the rear wheels via a six-speed automatic gearbox. The petrol engine is supplemented by an electric motor with an output of 131 hp and maximum torque of 250 Nm. The power from this lithium-ion high-voltage battery is channeled through the front wheels via a two-stage automatic transmission.