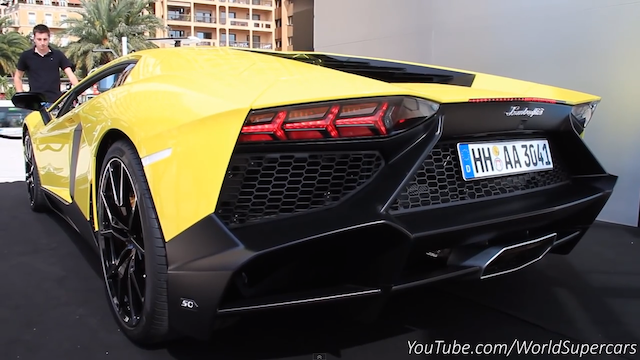 To celebrate its 50th anniversary, Lamborghini created a very special Aventador called the LP720-4 50° Anniversario. The 50th Anniversario features the same 6.5-liter V12 as the standard LP700 but it has been tweaked by the Lamborghini engineers have managed to extract an astronomical 720 hp from it. Zero to 100 km/h is over in the same 2.9 seconds as the LP700 and will carry on howling and pulling to a vision blurring 350 km/h!
[youtube]http://youtu.be/gIoJqeUIaY0[/youtube]
The looks and aggression of the Lamborghini Aventador have been taken to another level with the LP720. Here we have a video of a Giallo Maggio revving and starting up a number of times, including the start procedure, the V12 sure sounds impressive!